Life after Darkside has been a period of intense creativity for Mr. Dave Harrington. After he and Nicolas Jaar amicably disbanded, the guitarist, composer and producer has channelled all his efforts into the Dave Harrington Group. The group is a studio project through which the eponymous Harrington collaborates with musicians and producers from the world of Jazz and electronica in an improvised format revised and refined in the studio context. In 2016 the Dave Harrington Group released their debut LP, "Become Alive," and shortly after the group coalesced around a few fundamental personnel form the recording session into a live band.
Beyond the tour the Dave Harrington Group consolidated further with "key collaborators" Andrew Fox and Samer Ghadry forming around the central figure in the group. In this formation they hit the studio again and in 2018 Dave Harrington Group released their sophomore LP, "Pure Imagination, No country," establishing the sound of the group while it continues to evolve as Dave Harrington defines the sound of the project through his guitar and the entourage of musicians that travel through the band. "Pure Imagination, No country" includes musical dignitaries like Lars Horntveth, Will Shore, and Shahzad Ismaily as well as that key rhythm section made up of Andrew Fox and Samer Ghadry.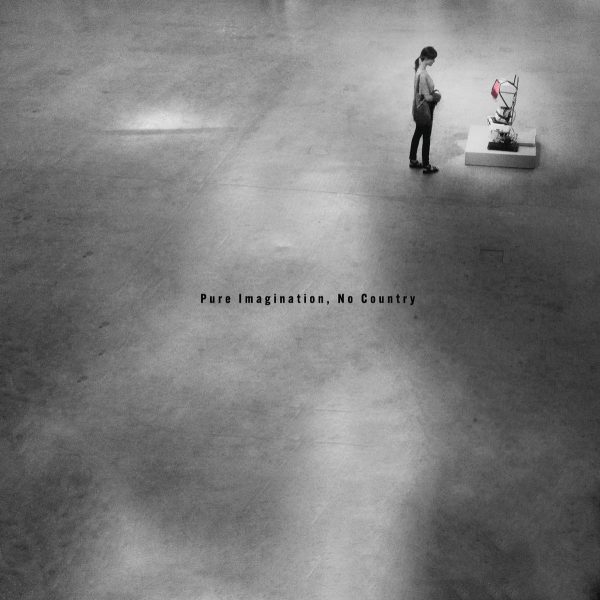 Channeling that experience of touring and playing live into this record, Dave Harrington Group favour an uninhibited approach on "Pure Imagination, No Country" as they capture that raw intensity and power of a live band in the studio. Nick Murphy emphasises this energy through post production, which on their previous LP, favoured a slicker, more refined approach. Dave Harrington's guitar takes more of a central role on the LP, where it appears mostly unprocessed in its natural state taking the stage front and centre in the production across the album.
Dave Harrington Group creates a dense tapestry through adding layer upon layer, which amalgamates into serene dronning melodies, punctuated by sharp staccato bursts as musicians improvise around set pieces. It's never improvised for the sake of extemporisation as erratic modulations to the extreme borders of jazz burst and decay into fully fledged forms that build and subside through the arc of the album. There's a narrative to "Pure Imagination, No Country" that builds and concludes in the sublime rendition of "Pure Imagination" similarly to the way that "Become Alive" did, but because of the bold sonic strokes that dominate the new LP, it reaches even higher and more raucous crescendos than it ever did before.
Dave Harrington and his group will be bringing this LP on tour this summer with a stop at Jaeger scheduled for the Natt programme during Piknik i Parken. It gave us a reason to get in touch with Mr. Harrington to follow up on our interview from two years ago with him and talk about the new LP, the tour, playing 120 gigs a year, what kind of impression Darkside continues to make on his work and much more in this extensive Q&A with the artist.  
*Dave Harrington Group play Retro this Thursday. 
Hello Dave. The last time you were in Oslo was with the release of your last album, and now you're back with a new LP, Pure Imagination, No Country, and I want to get to that LP shortly, but what have been some of your personal highlights between?
I've been busy in the years since the last album gigging and collaborating across different scenes in NYC, and have been very lucky to be playing with some of my favorite local musicians from the jazz/jam/experimental world here in town. There are too many names to list but as an example a recent highlight was performing at a benefit concert at Brooklyn Bowl with Billy Martin, Joe Russo, Steven Bernstein, Karl Berger, Peter Apfelbaum, Marc Ribot, Stuart Bogie, Jonathan Goldberger, Oteil Burbridge and more – all in one night!
I've also been scoring a few independent films and collaborating with Nick Murphy as a producer on his new record.
Your usually involved in quite a few projects at the same time, but it seems that now you have you focussed all your attention on the Dave Harrington Group. Is that the case?
DHG is like homemade for me – it's a musical place with key collaborators (Samer Ghadry and Andrew Fox) that allows me to explore my current musical interests and directions, like an ever-evolving laboratory.  That being said it's true – I'm also always working on other projects!
What particularly did you take away from the Darkside experience that helped establish your career as a solo artist?
Darkside was an incredibly inspirational experience, I learned so much about making records and stretching the bounds of improvising and using electronics and fusing that would to the jazz world I grew up studying was invaluable to my development as a solo artist.  Being in Darkside was the beginning of my journey towards really finding my personal voice as a guitarist.
Become Alive came out shortly after Darkside went on hiatus, so your name was still intrinsically linked to that project. Now that you have had some distance from that project, how have you experienced the reception between Become Alive and Pure Imagination, No Country?
Since the last record I feel I've become associated with other scenes and collectives and musicians so now there are people who know me from Darkside but also through my connection to Nublu and Ilhan Ersahin, and my ongoing collaboration with Joe Russo, and my more experimental work with people like Brian Chase, Briggan Krauss, Exo-Tech, and projects like The Dream Machine. Which is to say, I think and hope people will see this record with a wider lens and more context about the various influences that went into the making of it.
I believe this new LP was a direct result of the Become Alive tour, and playing with a band. The result is a record that sounds more organic (for lack of a better adjective) than the last. Can you tell me a little bit about how this album came together?
The album was very much built off of the way that the core band of Fox/Ghadry and also Will Epstein approaches playing Become Alive on tour.  Therefore there is more focus and shared language and in the nature of the playing and the improvising as the result of time spent exploring the music together on the road and in the studio.
Who were the band members involved in the process of making it and how did they influence or dictate the way the record eventually sounded?
Samer Ghadry and Andrew Fox make up the core rhythm section and drive the ship.  The influence of a few key interlocutors added surprise and some welcome chaos to the proceedings – these people were Jake Falby, Lars Horntveth, Will Shore, and Shahzad Ismaily.
The guitar takes more of a central role on Pure Imagination, No Country, and it's very much present from a listening perspective in its raw, minimally processed form. What encouraged and influenced the way you used your instrument on the album?
Gigs gigs gigs.  That was my mantra after the last record.  Not just touring but playing in different contexts in NYC all the time. The guitar became my primary mode of expression and I wanted to represent that direction mode of communication on record as best as possible.  I haven't been on tour since the last album but to illustrate: between the summer of 2017 when we were working on the album and when the album came out at the beginning of this year I played about 120 gigs.
Were there any abstract ideas that informed the album; some singular sub-conscious thought or feeling that served as a totem pole throughout the recording process of the album, that you think might have influenced the album?
The album was about improvising and communicating – musically, psychically, electronically – with no limit, no boundary, infinite possibility.
You mentioned "conceptual ideas" in another interview when talking about the underpinning structure of the recording process. Can you divulge on what these conceptual ideas were?
It's really the same answer as above: a commitment to the freedom of improvising and the total anarchic abandon that can come from that commitment.
Like Become Alive there's very little of a sense of tradition in your music, like your always pushing the boundaries of known conventions. And even though Pure Imagination, No Country is rooted in the traditional construct of a Jazz band, it very rarely panders to tropes. In what aspects of your musical training/experience do you believe this is rooted?
I was encouraged by my teachers at a young age to study and learn the canon and the classic structures of jazz while also stretching those boundaries and exploding them: when I studied with Kelvyn Bell at the Harlem School of the Arts as a teenager he taught the jazz ensemble everything from Ellington and Monk to Arthur Blythe and his own odd-meter funk compositions influenced by his work with Steve Coleman and MBase.  My composition teacher at that same school, Daniel Bernard Roumain, was on an artistic mission at that time to bring hip-hop into classical concert composition and that also had a huge impact on my understanding of musical synthesis and the possibility for porousness between any form of music.
Besides "Pure Imagination" (a cover of the Gene Wilder song from Willy Wonka and the Chocolate Factory), is there any other musical references that you tried to incorporate in the sound of the album?
Too many to name, but, as always Miles Davis' electric period and ECM Records (specifically from the 70s and 80s) are very important touchstones for me.  And of course drone metal.
"Pure Imagination" concludes the album in this very serene moment, similarly to the way you concluded Become Alive with "All I can Do". It suggests a narrative arc that flows through your album concepts. How important is progression for you in the context of the LP during post production, and what was your intentions in that arc on Pure Imagination, No country?
I like a journey on a record, I like it to be welcoming, but also challenging, and I seem to always want to end on a sweet note – I'm a sucker for a gentle closing track.
I have to ask you about the live show. On the last tour you had to re-envision the finished album for the stage.  With this one it almost works the other way around, as it came from the context of a live band. How will this upcoming live show at Jaeger be different from the last tour?
We're still figuring that out!  In a way, the way this band works, we're always figuring that out, always trying to evolve but doing so in the context of deeper and deeper ensemble communication. This band will be streamlined as a kind of deconstructed classic organ trio with synths taking the place of organ and with electronics incorporated along the to create density and atmosphere.  But ultimately it will be about showcasing an even more focused ensemble interplay.
There are still a lot of layers on Pure Imagination, No Country. How have you had to adapt the sound of the record of the LP for the stage, if at all?
The album is a jumping off point – a set of structures and sounds that we don't aim to "re-create" but rather to deconstruct and reconstruct through improvisation.
And that is all the questions I have Dave. Is there anything you'd like to add?
I can't wait to come back to Jaeger.  We had such a blast playing last time I'm excited to do it all over again!!