Surveying the spatial outskirts of Norwegian Disco in a potent fusion excavating elements from balearic beat to Jazz, Lakeshouse arrived on Paper Recordings  at the beginning of this year with the Firkanta EP. The four-piece from Norway, consisting of Espen, Bjørnar, Endre and Andreas had been making music together or independently since their youth in one form or another. They first came together under the BOKA pseudonym with a happy infusion of Pop and Disco catering to the more ebullient corners of the dance floor on infectious melodies and effervescent grooves. 
They eventually left the BOKA project to one side only to re-form as Lakeshouse, honing their sound further to the club with Firkanta, establishing the Lakeshouse sound in no uncertain terms with a record DJ Mag called "great…bonkers Norwegian language garage." In November this year they followed it up with the equally "strong" Folkemusikk, refining and cementing the Lakeshouse concept with a record that ties something of a conceptual thread between the tracks. 
There's a strong organic element to Folkemusikk coming together under the shadow of the mountain that adorns the cover. From the airy vocals of "Lov" to the staccato keys of "Papaya" it relays that human connection between the dance floor and this largely machine-made music. From the downtempo "Lov" to the energetic "Folkemusikk," encouraging beat and bass arrangements underpin these tracks, which even under the slower tempos of "Lov" find an empathetic synchronicity with the listener. Lyrics ponder themes of love and culture through the abstract gaze of an artist's viewfinder, with the music providing the visceral counterpoint. 
They'll be bringing the record and a few others along to the official launch of Folkemusikk at Jaeger, so we shot over a few questions over to band to ask about the music, the story behind the cover, the origins of the band and their upcoming DJset at Jaeger.
How did you guys meet and what encouraged you to start a band together? 
The four of us met very young, some of us as early as kindergarten in Nordfjordeid, Sogn og Fjordane. It's a small, picturesque place. We listened to weird shit and weren't into sports, so that comes with its social consequences in a place like that. Me and Bjørnar started messing around in Fruity Loops and Reason when we were around 12, and then in high school we all came together for various projects. There was a black metal band, a cosmic disco group, a prog rock band, an electro-jam band, but none of them very serious. When we moved to Bergen in our early 20s we founded BOKA and started being a bit more serious about this music thing. 
What is the connection between this project and BOKA and how has it evolved or diverged into Lakeshouse? 
The connection is we're basically the same members as BOKA, but we needed to do something different and we needed to do something that would allow us to work together despite living in different cities now, ever since Espen moved to Malmö. We sort of realised that we've gotten much better at club music and could do more. 
Where do your individual musical influences crossover and how did that inform what you wanted to do with Lakeshouse? 
Lakeshouse is our attempt at simplicity, even though compared to most underground club producers we probably sound pretty crazy. Three of us are musical omnivores with a penchant for dance music, while Andreas is the same but with a penchant for jazz. We rarely do anything by the book and want to create our own definitions, not be defined. Lakeshouse is us balancing our need to experiment with our love for dance music. 
What's the story behind the name and why the possessive form "lake's"? 
"Lakehouse" would be a pretty boring name, don't you agree? :P But in all seriousness, it actually came from a cosmic disco track Bjørnar did called "Live at Lake's House". He had this idea of a place the track was recorded live, since it sounded kinda live-ish, like it could be a Lakeshouse-set at some mystery club. Where is this place, and who the hell is this Lake-guy? So we took that and made it Lakeshouse. 
Now that Espen lives in Malmö and you live in Oslo, how did the music come together with the band spread out like that? 
Well, we miss him a lot! Music-wise there's a lot of skype-meetings, messenger chats, phone conversations, sending projects back and forth and such. We try to keep each other involved as much as possible. Sometimes we just make stuff on our own, and give each other feedback and maybe improvise something over it. The only thing that has become a struggle is anything live-related, since we can't rehearse together. 
How do you divide the duties between the band? 
Generally, Espen, Bjørnar and Endre do the production and songwriting, and then Andreas might come along and lay down some trombone. Since he's much more a jazzhead than a clubber he'll usually have some opinions on the chords or arrangements that help make things more musical. And for the most part Endre does the final mix, with a lot of help from the other guys. Since Bjørnar is also a visual artist he does all of the graphics, videos etc. We do everything except the mastering. We like to keep it all inside the BOKA Recordings crew.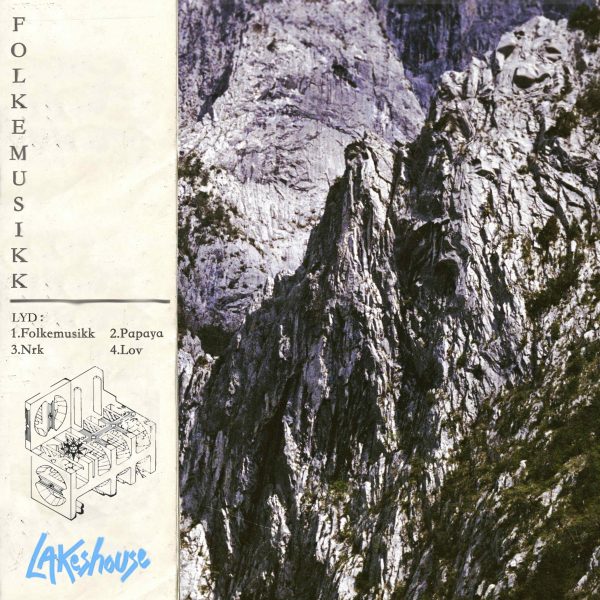 Folkemusikk is your second EP for Paper Recordings. How did you arrive on the UK label and how has the label and its discography informed what you do if at all? 
In 2016 we released a track called "Brødrene Hermanos" as BOKA. It was a pretty cosmic affair, and somehow Paper got wind of it and asked us if they could put it on their Trash The Wax series. They dug it and we felt like they understood us better than other labels we'd dealt with before. This was right around the time we were becoming clubbier anyway, so when we had Firkanta EP ready they were the first people we contacted. 
Ben Davis has always been a huge supporter of the Norwegian music scene, but he's also been a very prominent figure in Manchester. What kind of affinity is there between these two scenes from Lakeshouse's experience? 
We grew up in the 90s with Faithless, Prodigy and The Chemical Brothers on Topp 20. UK music has been hugely important to us and Norway in general. Manchester has been a staple club-town since the 80s, but the overall willingness to push things forward seems like a British tradition overall. Paper is one of the many labels that don't mind taking risks if they like the music. We recently read an interview with Ben where he joked about not being able to resist releasing a record of a guy in South Africa with 30 followers on Soundcloud! And Paper made an entire documentary on the nordic disco scene. It seems the UK influence is paying off for both parties. 
Getting onto Folkemusikk. Tell me how that EP came together and what were some of the ideas that informed it. What were some of your inspirations (in music and beyond) for the sounds of the record? 
We started out with a couple tracks that felt like they belonged together. 'NRK' and 'Folkemusikk' both have a nostalgic and surreal vibe to them. They made us think of the old video archive of the Norwegian broadcasting corporation, which is tasked with documenting Norway's culture and history. The lyrics for 'Folkemusikk' go really well with that theme, and the vocal sample on 'NRK' sounds like a mangled radio jingle. Then the rest kind of just fell into place. Varied, but with a conceptual backdrop. 
The Lakeshouse sound that you established on Firkanta is still prevalent, but there seems to be something slightly more organic, at times a little psychedelic about this record. How did you approach this record any differently than the last? 
Well, 'Firkanta' is called Firkanta for a reason. On Firkanta we focused on presenting different sides to our sound, like the proto-Lindstrøm space disco of the title track, or the garage-ish swing of Ambulanse. Folkemusikk is more conceptual. If one track had ambient elements then the other tracks needed some too. All the tiny details, the textural, almost tactile sounds, they're all meant to match the feeling or the message. NRK sounds a bit like the fever dream of a child listening to the radio. Papaya is very Ibiza and beachy, while Folkemusikk is urban pitted against folk music and a Hardanger-fiddle. There's even a lonely owl and a ticking clock on Lov. 
How did the writing process work on this record and where did the inspiration for the lyrics come from? 
The title track is a nod to the history of dance music. Dance music is ancient, and some of it we've arbitrarily labeled "folk music". It seems modern club music is really just an extension of a very old idea. The chorus is a chant; "this is folk music", sung in a dialect that has traditional connotations. It also kind of sounds like "this is fuck music", which isn't too far off if you think about it. In the verse a guy is sad that someone told him "music died a hundred years ago today", like there's a specific date someone decided music went wrong. It didn't! It just changed. 
Lov was of course inspired by a breakup. It's during a break up you might wonder why we all keep trying when it usually ends with heartbreak. The title is both the Norwegian word for 'allowed' and 'law', almost like the song is taking the piss out of the concept of love. And there's no linear story, more an abstraction of the feelings around it. We really love Air and the way they used a looped, robotic voice on 'Run', so we tried to mimic that on this track, underlining the abstract and binary lyrics. "One/Two, me/you". Maybe it's a story of a robot programmed to love, running the same software over and over? In a way it's an existential song more than a love ballad. 
There's something about the mountain on the cover, Endre told me. What is it about that image in the artwork that's so significant about this record and how did it inform the music? 
Having grown up surrounded by nature we're still marked by it. There's something mysterious and profound about mountains. Now that we live in Oslo we kind of have to make do with the nature we have here, which is not as spectacular but still nice. We spend more time in the woods than in the club. Back in Nordfjordeid we had many secret spots we'd go to just to be alone as friends, one of them was by a lake that few people knew about. It's kinda funny cos the picture used for the cover was actually taken on a trip Bjørnar had to Albania, but it still looks as majestic and "nasjonalromantisk" as a Norwegian painting from the 1800s. There's even a troll-like face in the rocks. Both the videos for Nrk and Lov were partly filmed by a lake outside Oslo. 
And now for the plug… it's the official Oslo release of the record; what is happening on the night to celebrate the record? 
Before we officially start DJing we'll have a little mingling sesh, listen to the record in full and also show the two videos Bjørnar made. We also have a bunch of T-shirts from Firkanta EP that we'll be selling. And anyone with a healthy interest in music should get down to our DJ set later, cos it will be epic and eclectic! 
I thought you might be tempted to play live. Why the DJ set? 
Like we talked about it's hard to get live sets going when we're spread out. We've barely all been in the same room for most of the process of this EP. We've also been wanting to do more DJing in general, so for that purpose this is a step in that direction. 
And how do you hope to relay the sound of the record through the set? 
Of course we'll play as many Lakeshouse tracks as we can muster, including our remixes and other goodies, but it's also just something that will happen organically through the selection. We want people to dance, but we also like championing wilder records, blending party vibes with something personal, kind of like how our music sounds. 
That's all the questions, but is there anything you'd like to add? 
Nothing other than a big thank you to both Olanskii for booking us to Jæger, and to you for asking us such great questions!