Diego Herrera is a prodigious musical talent. In the eight years he's been active as a producer, he's made seven LP's as Suzanne Kraft; released an underground dance floor monster EP in 2015 as Dude Energy; has collaborated with the likes of P. Relief and Jonny Nash on various Eps and LPs; and most recently he's released an LP under the new alias SK U Kno. Did we miss anything? Possibly, Herrera is a very productive artist and his musical reach spreads far and wide, and there is sure to be some projects under pseudonyms or collaborations that have eluded us.
Born and raised in Los Angeles, Herrera's name first cropped up on the LA online radio channel, Dublab. He rose through their ranks from intern to programmer and host, while concurrently refining his musical voice as a producer and artist. He got his first real break in the latter after releasing the sleek deep Disco/House "Green Flash" on Running Back. With elements of House, Dub, Disco and Funk coursing through the release, Herrera's eclectic musical influences made for a unique sonic signature in his work.
He followed it up with EPs on Young Adults, Noise in my Head and Kitjen, expounding on the diversity in his sound with a series of bold dance floor cuts that made severe impressions in record bags. He eventually moved to Europe, Amsterdam to be exact, and took his career into overdrive, where he went from a EP/single artist to an album artist for Jonny Nash's Melody as Truth label.
The albums, like his EPs favoured a diverse approach, with the serene ambience of a record like "What you get for being young" counterpointing the pop-centric constructions of his debut LP, "Talk from home" in an exquisite balance that showed his variation as an artist, but also defined an attitude in sound. Built around the polarity of vintage synthesizers and organic samples with intuitive rhythms that break with common tropes, Suzanne Kraft is unlike anything you are likely to have heard before.
He transports this to the booth with a digger's fascination for music that finds him in good company in Amsterdam where people like Antal and Young Marco occupy a very a special place on the DJ circuit. Naturally he's found a kindred spirit in Øyvind Morken too and as the pair get ready to go back to back this Wednesday in our booth, we took the opportunity to ask the visiting DJ and producer some burning questions.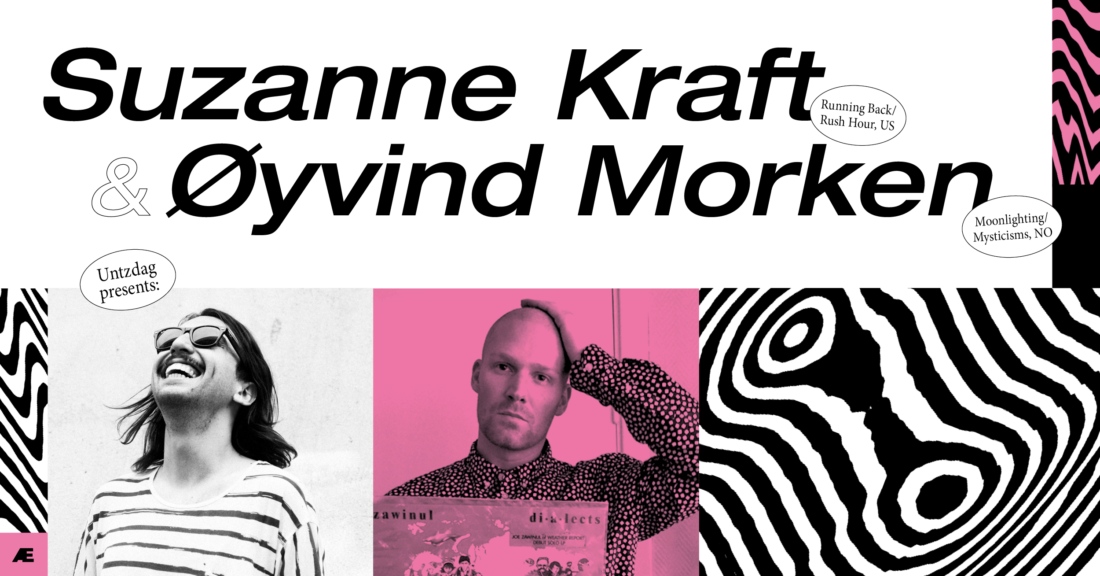 Hello Diego. Where are you originally from and how did you get your start in this kind of music?
I was born – and raised in – Los Angeles to a mother and father who have always been supportive and encouraging of any creative endeavour since day 1.
Which came first; DJing or making music?
Making music.
You had your start at dublab in LA. How did you end up there and how do you think it aided your career?
I started at dublab as an intern when I was still in high school, about 16 years old. I was a fan of the station and just wanted to be involved in any way, so I wrote them an email and got a response from Ale (the now station director.) Both frosty (station director since 1999) and Ale were hugely influential on my musical worldview by constantly showing me all sorts of music across all genres. I eventually became a staff member and hosted a weekly radio show for about 4 years – first with SFV Acid and then with Daddy Differently. dublab sort of became both my playground and classroom over the course of roughly 6 years.
I noticed there is a lot of that Berlin Techno sound currently happening in LA. Are there places, parties, or record stores that accommodated the more eclectic approach that you favour in your music and DJ sets?
As far as record stores go Amoeba will always be at the top of my list. The shear size and turnover there has always lead to me finding countless good ones.
Places – nothing compares to driving through and around the city listening to music.
Parties – I'd always prefer a bar or a friend's house.
You're obviously not there anymore since you moved to Amsterdam. What encouraged you to move this side of the Atlantic and why exactly the Dutch capital?
Over the course of a few years doing European tours I saw the potential to perhaps make a living off playing shows and DJing if I lived in Europe. I took a gamble and, so far, it's paid off. I picked Amsterdam because of the concentration of friends who live here.
What are some of the differences between playing for a European audience compared to a US audience?
My experiences playing in Europe greatly outnumber those in the US so I can't really comment.
There are some obvious differences to your Dude Energy alias and your works as Suzanne Kraft. How do you approach all your musical projects differently?
I don't have any conscious approach towards working on music. I tend to work on many, disparate sounding things simultaneously and just slap a different name on it when it's done.
Am I right in thinking that Suzanne Kraft is more focussed on the album format?
You could say that.
Each LP is very different. Do you usually have a thematic framework or concept informing the albums as Suzanne Kraft?
Each record has usually been the result of finding a sound palette or workflow I like. Every record I've done on Melody As Truth has been recorded very quickly because of this – usually within a week.
When you talk about a sound palette and workflow, it sounds like each album is usually built up from something like a single synthesiser that informs the other sounds too. Is that the case?
In essence, that's correct. Although historically it's been more of a constellation of equipment or a new/different studio to work in. I tend to work on music most days, playing and recording aimlessly until one day I strike upon a string of cohesive ideas that, quickly, start forming something you could call a record.
Your records as Kraft are quite diverse in terms of sound. I imagine like your DJ sets, you're attracted to diversity in music, but what's the single thread that ties it altogether for you as an artist?
Probably some kind of internalized emotional narrative. I've learned I'm not a very expressive person but – and I do recognize how saccharine and cliché this can read – music does serve as my best outlet of expression.
Do you feel there needs to be a relationship between the music you make and the music you play out?
I think there is certainly an element that is inextricable between the two – an exchange of influence from one to the other in either direction.
You're last LP was actually a collaboration with Jonny Nash. How do these collaborations filter into your own music?
With Jonny they've become inescapable… We've been sharing a studio for two years now. But in general I find a good collaboration with anybody to be freeing, insightful and, most importantly, effortless. That record, 'Passive Aggressive', is a perfect example – we recorded and mixed it in 4 days.
That was the last LP in 2017 that had your name on it. What will your next recorded project be and sound like?
I've got a handful of projects in the oven at the moment some of which might be more experimental things, a 5 year old pop EP and some more straightforward club stuff. Some of it might sound like this:
The new stuff LP as SK U sounds amazing. Can you tell us a bit more about it?
The 'U Kno' record was a result of working on a bunch of sketches for a couple of live shows I did at the end of last year. I exported all these fragments and track elements to present this sort of mixed collage. No 'Label' expressed interest in releasing what they heard at one of the shows and so I re-created the arrangement with some amendments
Why did you create yet another a new alias in this case?
Oh who knows… :) Putting it together felt like a "new chapter," so I decided to title the chapter.
What music from other artists are currently always with you, and how do you see your night going when you're with us?
Bruce, Wah Wah Wino, C.A.R., P Relief, SFV Acid, Niagara, General Ludd to name a few.
I'm quite looking forward to the night at Jæger. Øyvind's a good laugh so I hope to share some good laughs.