*Photos by Cecilie Andrea Torp & Victoria Therese
Safira Olsen is breaking the mould in a scene currently dominated by commodity over substance. She is a DJ who arrived out of relative obscurity four years ago and has used her sudden rise in popularity in the booth to facilitate a scene around her through her Extra Delicious events in Oslo.
Safira stepped into a DJ booth for the first time at a Mandagsklubben four years ago and has garnered a very intense and dedicated following ever since. She always brings a crowd wherever she plays without much effort and it's all down to the community she's built around her and her Extra Delicious concept. 
Born to a Palestinian father and a Norwegian mother, Safira has followed a very different route to the booth from her peers with little prior experience in electronic music before the Dj bug bit. From her very first set, her star rose quickly beyond Oslo and she has appeared in far off destinations like Sri Lanka and more recently Australia, while cultivating a following back home in Oslo.
In 2019 Extra Delicious first appeared on Oslo's Musikkfest programme, unheard of for an event series in their first year, but the success of that first event and the Extra Delicious events have only strengthened Safira's resolve in building community from those foundations. "I want to bring more culture and performance artists," she tells me about her desires in a  candid backstage chat before her last appearance at Jaeger for Oslo World.
"It's really nice to help people," she tells me in the context of Extra Delicious' cultural project and next evolution as a label. "There are so many people sitting at home that are really good at their art art form, but perhaps they don't have the connection," and Safira is determined to give these people a platform. She's s chosen Cubicle and F.Angst aka Sortna to eventually inaugurate the label, but first there's a dance floor beckoning for her and SAMA'.
The early set is a "different vibe" to what Safira is used to playing, but she has "certain tracks that will warm up a new audience to the darker sounds" she usually plays and which should feed into SAMA's set quite easily. "Now I feel that I can take my time to build up the audience," she continues "and it doesn't have to be full on all the time." 
The event at Jaeger is her penultimate event before she heads out to Australia for the winter season, and with only a few days remaining in Oslo, we slip into the the chesterfield couch in the backstage at Jaeger to talk about her upcoming trip, Extra Delicious and how she's established her presence on the DJ circuit.
Why are you going to Australia for an extended period.
It's a holiday/work trip. I'm just going there with no expectations and hope to get some gigs. I always end up meeting the right people. I want to go to India and Thailand too, because I have a lot of connections there. 
When I read you're biography it also said that you play a lot in Sri Lanka. What's the connection with Sri Lanka?
It was two years ago during winter. When you work during the night as a DJ in Norway, you get a little depressed, because you're sleeping during the day. So I went to Sri Lanka, and I promised myself not to check out any music or the scene, and I ended up playing everywhere and meeting so many people, so it was the most musical journey I've ever had. I realised it wasn't the music that left me uninspired, it was just being stuck in the same scene. 
The year after that I started playing at a festival in Sri Lanka. I ended up playing after one of my favourite artists, Grouch and one of his band mates invited me to stay on his couch in Melbourne. Everything ended up coming together on this journey to where I am now. 
Just from DJing and interacting with people?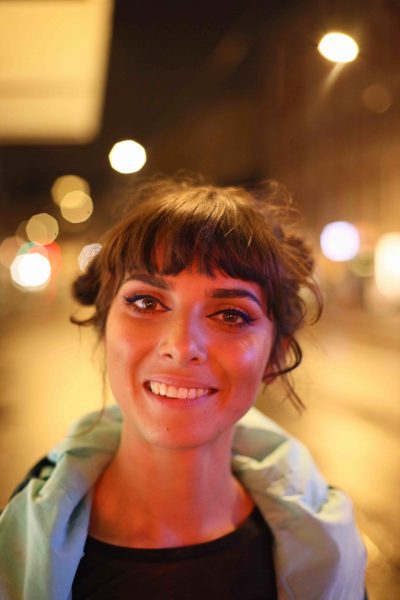 It feels like I am on such a good vibe with this. If you try too hard, I don't think you'll get it. You just have to do your own thing. You just have to enjoy what you do and the right things will come to you. 
In terms of getting gigs, you are not that active on social media either.
No. I want people to actually want my performance. I don't want to have to prove myself, because I have a little stage fright. 
When I had my first gig, I was actually forced to do it by André Bravo. It was a Monday at Jaeger. I promised myself that I would never play out in a club before this; I was only doing this for myself and I wouldn't play out in front of people I didn't know. Then, I realised when you're a DJ you're not actually on a stage, you make the stage for someone else. The dance floor is the stage. 
But you didn't just step into the booth at that Mandagsklubben right, you had to be DJing before, right?
I had a friend and neighbour, Zoran who had a pair of decks and let me practise after I tried  it out at some after-parties. He just let me do my own thing and only stopped me if it got really bad. I'm really grateful for his patience. He's not in the club scene at all, just a music lover with a good system at home. 
Then I met Bravo, and he definitely saw something in me and I'm forever thankful that he almost forced me to have my first gig. I was always on the dance floor before bringing people out to dance and now I can give people the same experience. 
From the first time your name cropped up, there always seemed to be a bit of buzz around the nights you played and that has been about you bringing the crowd out. Did you have to work at that?
I'm a people-person. I had a crowd even before I was Djing. I was always getting my friends together to see other DJ friends of mine. Of course, when I first started DJing and reached out to my friends because I was so nervous, they all came and there were hundreds of people on a Monday. It's really magical for me to have an opportunity for all my friends to meet each other in an environment where I create the vibe. 
My thing was actually horses. I moved to Oslo to study agriculture, and in my last year I discovered this music. It was two different lifestyles, so I had to choose. It was only the past five years that I discovered this kind of music and it's more than just the music. It's the environment and a family, a community.
So clubbing came first and then the music came after that for you?
Before, my friends were dragging me out and I was lucky to have friends with good taste in music. And then I started developing my own tastes, and before I would never imagine myself having this job, DJing. It is really strange living a dream, I never had.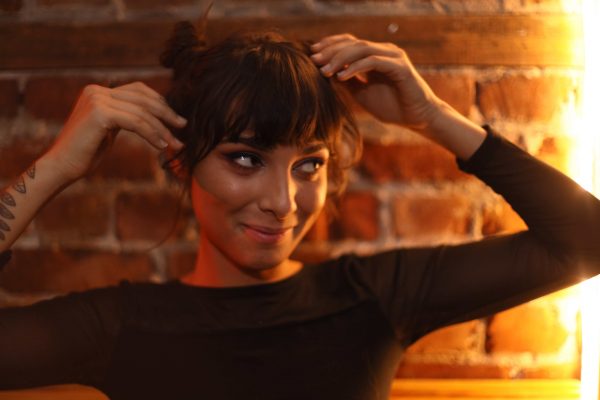 Do you remember a specific moment or track that inspired you to first mix two songs together?
It's impossible to remember one track, because there's a lot of music and it's always changing since I play so much. 
Was there a particular DJ that inspired you in Oslo?
No, because I never really thought I would be doing this. I didn't plan it. For every step I got to, I never imagined I would get there. 
What  kind of music were you growing up with, was there ever any electronic music playing at home?
Not really. My family had a restaurant and my stepfather was Italian, so there was a lot of Italian music and a lot of live music. I played a little piano, but I didn't actually get introduced to this kind of music, before I moved to Oslo. It just happened so fast.
I wasn't into the party thing before I found electronic music. Electronic music was a more relaxed way of going out. It wasn't about getting someone to fuck or shitfaced. It was more about going there to enjoy yourself and enjoying the music.  
From what I've heard, your sets favour a dark, minimal sound. What usually draws you to those sounds?
I started out in Tech-House and the more groovy and melodic vibe. Because I was going out to some forest parties in Oslo, where they played psytrance, I've had some influence from these events too. It's a different kind of experience, and I think I've always had some influence from the psy scene.
So that's where the psychedelic element comes from?
Yes
Is there a lot of music out there that bridges those two worlds and how does filter into your Extra Delicious events?
Yes, like Breger and Mateo, they where the first two guys I booked to Norway along with Cubicle, Joona, Mekke Marit and Tingeling. These are the guys I look up to the most, and I was really lucky to book them and play with them. 
It's really nice to have the middle thing, where these environments meet. So not only the Techno scene and Minimal scene, but also the artistic performance art and psy-scene where you can combine all these people. Usually you have one event for each of these, but I feel like at my events, I can get all these people in the same place and maybe discover each other's art and music style. 
I think that's happening all over the world at the moment, and I think it's so nice since I am such a people person, I want all my friends to be friends, but people are different. When you have this music that everybody likes, it's a little easier to bridge these gaps.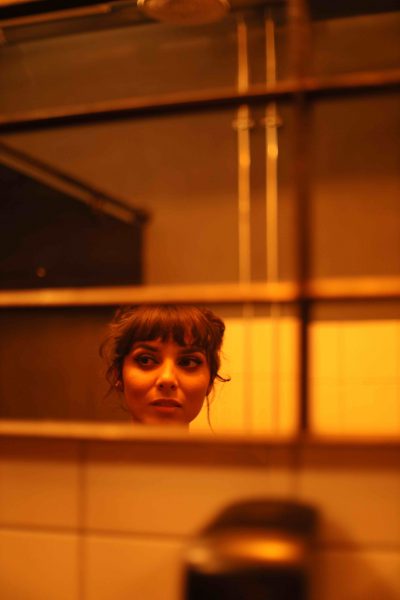 How many Extra Delicious events have you had?
Six.
Is it  just you or do you have a whole crew with you
I like to say we when I talk about Extra Delicious but it's just me. I try to work with people, but I like to do it my own way. However, I always get a lot of help from my close friends, and I work closely with the artist's crew too. 
What motivated you to start the events?
Because I love these artists. I wanted somebody else to book these artists, but nobody would. I just had to do it myself.
It's a lot of work to host those kinds of events, because you go to the forest where there's no kind of infrastructure.
Yes it is, but I get so much out of it. I get to meet my favourite artists and choose everything myself. It's really nice to design the kind of parties that I want to go to. The only downside is that I don't have the time to enjoy them myself.
Have you done any production in terms of making your own music?
No, I have such great expectations, and with production, it's really hard to do something well. I need a lot of time for this, and it has to be something good. That's why it's good for me to travel as well, so I can use the time. You can't force creativity.
You are pretty content just DJing?
That's the problem. When you are really good at something, it's really hard to start from scratch and do something else. It's about stepping out of my comfort zone. 
You have the label coming up and going to Australia, and what else do you have planned for  the future?
There are a lot of things coming up, but I don't want to jinx it. I want to focus the attention and the money I get from this on trying to help other people, beyond clubbing. I want to use my resources to do a little more than just clubbing. It's about connecting more with people in Oslo through Extra Delicious.  
So you're a bit of an altruist. Is this something that extends to DJing too, are you consciously aware of the people on the dance floor and making them happy?
Yes, that's what drives me. It's because I have a lot of regular guests that just come to see me, and the nice thing about my crowd is that my biggest fans are also my best friends. I have a personal relationship with my audience.