Karina, best known for her credentials as on of Ibiza's Zoo project residents is an intriguing figure on the House and Techno underground scene. With roots in Poland, Norway, Berlin, Ibiza and Egypt, she's a polyglot whose skills behind the decks have traversed many languages bringing nomadic gaps between cultures and music as a travelling DJ. She's a big fan of the physical format, a staunch supporter of vinyl since becoming a DJ, and has even stamped a few of those herself with releases on God Particle and Cymawax. Preferring the versatility of the booth, it's as a DJ where she has made her most significant mark on House and Techno with a penchant for the versatile, digging deeper and longer through the echelons of electronic music, to find a style uniquely her own.
Vinny Villbass you know, the Jæger, Sunkissed and Footfood resident of irrefutable charm and ability, that has been lighting up dance floors and record shelves for as long as we can remember. His burgeoning Badabing nights at Jæger has seen him invite some stellar friends to our courtyard and basement over the last few months, and as Karina joins him in this next episode, we've asked him to shoot her a question. There was only one question, on his mind, a question of such philosophical prowess that Karina didn't hesitate to answer in some extensive detail.
Vinny Villbass: Your Norwegian dialect is interesting. Where are you actually from and where are you going…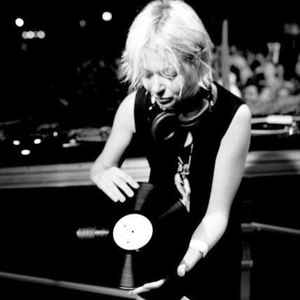 Karina: Hi Vinny, well now you must know you're delving into some deep philosophical questions there:) My dialect depends on where I am and who I'm talking to. I call it a dialecto flexible. I was born in Poland; grew up in Cairo; went to school in Norway; went back to Poland to study political science; learnt German in Berlin and spent many summers in Ibiza. My full name
is Karina Chaczbabian, and my surname is from Armenian origin, but written in Polish. It's been misunderstood and misspelled regardless of where I find myself, and I've heard so many versions of it, that when I hear a new one, I just crack up laughing. I've even heard it pronounced "Matsjbabi"! For the most part however I'm Karina. I've learnt six languages and as such I feel at home in many different places, something I regard as a positive thing. But I always feel most at home on the south coast of Norway, because that's the place I'll always return to find a perfect balance.
Quo vadis you ask? I find it paramount to live in the present and that my thoughts never stray too far from that path, terrorising me with visions of the future and possible future scenarios. There's nothing wrong with planning ahead, but realising that you are living in the here and now is essential to a good life. House and Techno help me focus, and when I'm mixing I'm thinking of nothing else than the music I'm hearing right there and then. It's a form of meditation for me.
But since you asked where I'm going… Status Quo: On my way from Berlin, through Poznan (for some studio time) to Warszawa (for a special Disco set) and then on a 6AM flight to Oslo. I'm really looking forward to seeing friends and playing with you on the 20th of May! It's been awhile since I've been back in Oslo and this will be my debut at Jæger. I always play vinyl and I haven't played a rotary mixer since my gig at the Panther Room in New York, a while back so it should be good. After Oslo I'm in Kristiansand for ten days and I can't wait to go to the forest. Then I fly to LA, it will be my first time in the City of Angels, which should be cool. After that I'm playing the vinyl only stage at the Who's Who festival in Ensenada, Mexico. I stay a week in California between San Diego and San Francisco, before moving on to Texas, where Houston awaits, after which I celebrate my birthday in Dallas on the 23rd of June with the Creme de la Creme folks.
Following that still unsure, I'm waiting on my agent to finalise a trip to the east coast. Either way, I'm back in Europe at the end of June, got Barcelona TBC, and four gigs at the Zoo Project in Ibiza, where I'm a resident. After that you'll find me back in Kristiansand eating shrimps and catching up on some sleep. ;)