There was a tangible excitement in the air that first week back at Jaeger. People were still resigned to their tables and the volume was tempered, but the atmosphere was thick with anticipation. "You could tell it had just opened again," says Ida Stein from SYNK a week later. "People were so positive." Warm welcomes precipitated through the bright night as old acquaintances were re-affirmed and social human contact re-established. 
"It was great to see people again," says Naomi Camilla, weaving between her cohort's sentences like they were going back to back in the booth as SYNK. They came prepared on the night, "hoping to play some electro/break-beat stuff" for the mostly seated patrons, but quickly realised that it wouldn't work as an eager audience demanded something more energetic and the pair "jumped over to a House vibe." Moving through the great expanse of influences that informed House music they set a distinct path through the genre, capitulating to the mood.
Mix now available to Mixcloud Subscribers

That mix is now sealed in time, and listening back to it today, it marks a very clear objective and concrete statement for the future of the dance floor after the pandemic. At a time when you'd think slower tempos and reserved energies would prevail, an obvious desire for the sounds of a  dance floor undermined the situation and SYNK acquiesced with a set that felt both urgent and inviting. Melodic flickers from disco's earliest influences charmed alongside pulsating rhythms that moved through Garage, Acid, House, Trance and Electro phases.
SYNK has been a DJ duo since 2018, and while the pandemic has claimed the dance floor for the moment, it has shown no signs of slowing the duo's progression as a formidable force on the Norway's DJ scene. They added producer to their list of accomplishments after releasing their first single "Lykkemaskin" on Prins Thomas' ever-present Full Pupp label in 2020 and have since been playing regularly around the country; made mixes for European radio stations; established residencies; worked on more music than ever; and most recently, started a new club night in Oslo. It's ahead of this first club night at Mir, that I call Ida and Naomi up for a chat. 
They've found a shady spot in a park to take my call as Oslo's early summer continues to cook the city, and while a tad nervous – "we have never been interviewed together"  – the pair are chipper and easy to talk to, the best kind of subject for an interviewer whose muscles have atrophied somewhat during the pandemic. 
Unlike me, however, Ida and Naomi have been busy and Ida suggests that they've "developed more into a producer duo in the last year," in large part due to the pandemic. "We had these good vibes together and really wanted to dance," remembers Ida of the moments right after the first lockdown. "Like other people in the club scene we really missed it… so the pandemic times really started off making some really danceable harder tracks…" "and some ambient tracks," chimes Naomi from the other side of the phone. "It went through periods in the pandemic," recalls Ida. "It felt like we went through an emotional musical trip together." 
A "quarantine soundwave" playlist on their soundcloud page holds a remnant from this period. A chugging atmospheric track called "be my quarantine" is all that remains unclaimed by future releases and showcases both similarities and differences with their breakout single "Lykkemaskin." Building on those eclectic notions they've formed in the booth together, they've channeled their music through an individual approach that focuses on inviting melodies and cosy soundscapes punctuated by challenging, percussive movements. "Our style is pretty eclectic as a producer and as a DJ-duo" confirms Naomi and while the pair call on a vast array of sounds, genres and styles, there's an underlying feeling to their sets, which generally lends itself to the music they make today. In an email later, they confirm my suspicions that it's something that they've both cemented from an early age in their individual musical experiences.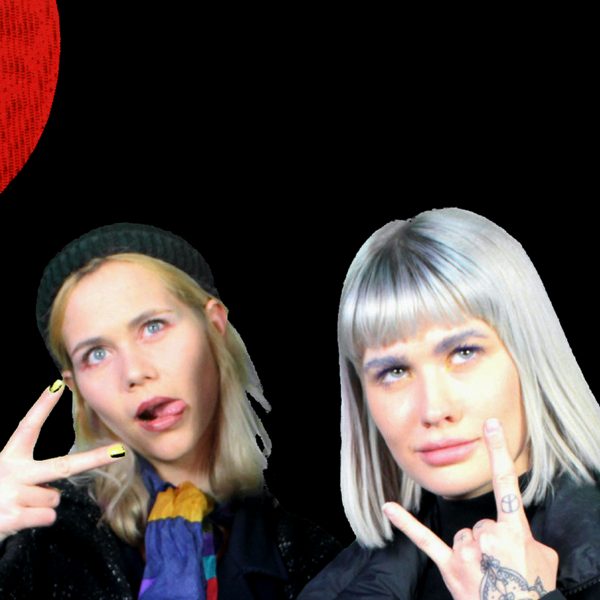 Ida and Naomi both grew up in what they consider a "small town" called Sandefjord. Both had taken an early interest in music albeit from different points of view. While Ida was "drawn into singing very early," Naomi was an avid listener, consuming all she can from Beyonce to Dimmu Borgir. At around the age of 11 Naomi's dad built her a dance studio in the basement with "some cheap speakers and different kinds of disco lights" encouraging the impressionable youth towards electronic dance music. She would be "dancing like a crazy person to Benny Benassi" in her basement enclave she remembers fondly today. 
Ida, it seems, took a slightly different path as an insular artist "creating her own world" through mediums that ranged from dancing and singing to "painting and writing." It was pure expression at a time when "you sometimes as a kid feel like nobody else understands anything," remembers Ida of the experience today. A microphone and a guitar fed that expression into music, where a laptop and synthesisers awaited just beyond. Ida played in bands and eventually moved into electronic music through electro-pop as an established solo artist before meeting Naomi and forming SYNK. 
Ida feels those early introverted childhood experiences evokes a "nostalgic feeling" when she's on the dance floor today, "cause one can get so brought back to that space – just that you're not alone in it." Although she is still working on her solo output which maintains an electro-pop aesthetic, Ida is also working "more and more" on SYNK as well as collaborating with Naomi on her solo work, having "merged" their artistic identity as SYNK.
They would eventually meet while Ida was a booking manager at Kurbadhagen and Naomi started DJing. Naomi had "been that girl at the party" for a while; the girl with all the music and an innate ability for musical narrative in a party setting. A few DJ friends encouraged her further and she found herself at Kurbadhagen in Sandefjord struggling to plug a pair of turntables into the predominantly digital setup. "I was super nervous," remembers Naomi of her first gig  "and was asking Ida where I should plug in my record players." 
The pair became friends and started DJing together, bonding over Scandinavian Disco before quickly absorbing their individual eclecticisms. "It's the feeling I guess and the feeling drew me in," says Naomi with Ida re-iterating "the vibe" that continues to flow through their sets and music today. 
Moving from DJing to production, Ida and Naomi's roles are more fluid than most DJ-production duos, sharing responsibilities based on practicalities. "I think because we use two different DAWs (recording platforms) we change between one of us setting up the recording and one of us having an analogue synth," explains Ida who would be the more accomplished musician of the two, and who I had assumed would take on more of the technical roles in their music. That's not the case however and as Naomi has just finished her first year in a production course in Oslo, and they're working more remotely between Oslo and Sandefjord the dynamic in the group is more fluid than the general DJ-production duo.  
Things just "seem to come naturally" for Ida and Naomi when working together, and it's something that had cemented itself early on in their working relationship. Going from Djing to production was effortless too. While  "drinking some beers" in Ida's studio, something just clicked and the ideas just came "super naturally" to them. I ask if it's easier with SYNK than with Ida's solo project which relies on structured forms and defined melodies and Ida thinks about it before replying: "I feel like it's easier to just jump in and do it with SYNK. When we produce together, it can just happen a bit spontaneously and we're a bit more free." 
It's that freedom that gives them the ability to forego style, genre and categories and produce everything for the vibe. "We started out without defining it under a certain genre," explains Ida and they "just started off with a vibe… just experimenting." It's an attitude that allows Ida and Naomi to "produce what we want to" from the effervescent space-disco of Lykkemaskin to the thunderous onslaught of rhythms of their newest remix of Nattl4ampe's "Nejjjj." That remix for the Mhost Likely label is the first of a string of releases waiting in the wings according to Ida and Naomi.
As well as an EP on Full Pupp there are also those missing songs from the "quarantine soundwaves" playlist, and that's just the news they can share with me right at this point. With club nights and some residencies that should come back after the pandemic, SYNK are sure to expound on their success in 2021. There's a lot to look forward to from this young duo with established artists and tastemakers like Prins Thomas picking up early on their talents. For Ida, those things and the releases have "at least confirmed some feeling that we were on the right track," dispelling insecurities that they've both shared. 
Even so "the tracks we are working on now are a bit different from Lykkemaskin," warns Naomi and that's the confirmation transforming into confidence as the pair delve deeper and further into that eclectic realm of their mixes and merging as an artistic unity called SYNK.