By 1998, House music was no longer the reserve of a clandestine underground, operating out of New York, Chicago and Detroit. House music had reached the masses on an international scale with everybody from MTV to the Rolling Stones looking for a stake in genre. It had become big business beyond the majors as chartered flights to Ibiza grew exponentially and Pioneer introduced the CDJ 100s, turning DJing into an increasingly popular past time and a commodity for the brand.
In that year David Morales won a Grammy for remixer of the year, ironic since he'd all but given up on the studio, and released the original track "Needin U." It was a track that exceeded all expectations, and which some people still look on today as the track that solidified their love for House music. To Morales however this was just  "some sample shit I fucking slapped together," according to an interview with the artist on Finn Johannsen's blog. It took him 2 hours to make that track and it was little more than an amalgam of two records he used to play back to back as a DJ, but the record lived on beyond Morales' initial rejections and it became a definitive hit for the artist.  
The video for "Needin U" is a time capsule of that era and would make regular appearances on MTV's late night programming well into the 2000's. Filmed on location in Ibiza, it features an incredibly tanned David Morales arriving at the airport, with a record under his arm and a set of headphones in his hands – and no other luggage oddly – indulging in the heady excesses of the late nineties Ibiza from the beach to the club, featuring Morales in various stages of undress. Girls in bikinis, sand, sea and sun had distinguished that summer that House music reigned supreme with DJs like David Morales becoming household names for a new generation of kids flocking to the popularised sounds of the genre.  
David Morales had come a long way by then since his humble origins, and his is a story that echoes the story of House music. Born to a Puerto Rican family in New York, Morales was "living in the ghetto" when he discovered American music for the first time. There had only been Merengue, Salsa and folk music from Puerto Rico playing around the House before a babysitter had introduced a very young Morales to a 45 record called Spinning Wheel by Blood Sweat & Tears. "I can remember I was really, really young" he told Finn Johannsen, but it had released an early interest in music that soon saw the curious youngster frequent the local "illegal social clubs" in his neighbourhood. Under-aged, but unperturbed he would explore these new sounds at these illicit joints, one of which was in his building below. "It was all about the O'Jays and that kind of music. And I liked that." He bought his first O'Jays record and remembers "playing that record a hundred times a day" with a speaker hanging  out of the window so the whole neighbourhood could hear.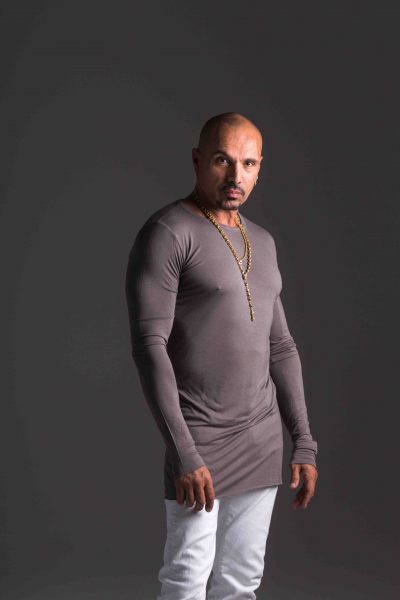 At 13 he had heard his first DJ playing Disco records consecutively, and by 15 he went to his first club and bought "Ten Percent" on Salsoul. The speaker hanging out the window soon developed into a party in his apartment, and requests to play at other people's house parties followed as he became a local mobile Disco music of some repute. "I just loved the music, it was just everything for me," he remembers. At 18 he had made something of a career out of it, playing mostly commercial music, before somebody dropped "a stack of what they called Loft records" at his feet. "I was like 'Whoa, what is this sound?'" It was a selection of expensive, limited press- and imported records, the kind of which they had been playing not only at the Loft, but also Paradise Garage. Although Morales had not yet been to either club, since they were strictly private clubs, he started making inroads as a dancer frequenting venues like Paradise Garage and the Loft through acquaintances with memberships, and eventually befriending people like Mancusso and DJ Kenny Carpenter. It was through Carpenter that he was inducted into a record pool, the first organisations that supplied DJs with new, unreleased music for the club, and it was through this pool that he would have his first major break as DJ.
He had already started playing at a club in Flatbush called the Ozone layer as a resident when somebody at the pool recommended Morales to Paradise Garage owner Michael Brody. Morales had only "been to the Garage five times just to hang out" according to an interview on the DJ History blog, when Brody called him up and Morales almost dismissed the request as a joke. "'Hello, my name is Michael Brody, I own a club called Paradise Garage'" he tells Johannsen, re-enacting the scene, "and I'm like 'Yeah boy, who the fuck is fucking me.'" Brody had never heard Morales play, but offered him a weekend at the Garage to cover a DJ that had "been playing like shit" purely on the recommendation of the record pool. 
"This wasn't about doing two-hour sets," he told Bill Brewster and Frank Broughton at DJ History, "this was about 11-hour sets, beginning to end, 12 to 11. And you had to beg me to stop!" It cemented Morales' reputation amongst the best of them, installing the twenty-year-old at the same echelon as Larry Levan and Frankie Knuckles, sowing the seeds of what would become House music, in the bed that Disco cultivated. 
One of the places that was at the forefront of this new era in music in the early eighties was Red Zone in Manhattan where Morales soon took up a residency after his Paradise Garage debut. The Red Zone was where he "really made a statement for the new age" according to the DJ history piece. "I think the Red Zone was definitely the turning point on the maps for music changing." The Red Zone played to dancing audiences with music that was "mostly no vocals or some vocals" according to Morales in Johannsen's blog with tracks that favoured "the dark side." "Red Zone was the only place that you were hearing that kind of music," and this new music was the turning point that would take Disco out of the the glitzy realm of Studio 54 and re-invent it in the grimy underbelly of New York, Chicago and Detroit as House music. 
Red Zone and what Morales established there was instrumental in House music's history and it went hand in hand with the advent of the 12" format and the remix . It's in this context that David Morales would make the greatest contributions to the genre. It was the remix where he staked his claim as a pioneer that bridged the gap between popular music and dance floor functionality. In a career spanning nearly forty years as a remixer, he helped establish it as an artform with his interpretations often exceeding the popularity of the originals or in the case of Shabba  Ranks' Loverboy reworking the track to inform most of what came of the original. His credits include Mariah Carey, Michael Jackson, Jamiroquai, Depeche Mode, Aretha Franklin and the Spice Girls and besides winning the Grammy in 1998 his accolades included the highest paid remixer for his work on Michael Jackson's scream at that time. "I spent a week in Michael Jackson-land," he recalls in DJ History. It was´ a remix that he believes, he had to "compromise the most on" through his career and probably played some part in his eventual decision to stop making remixes and essentially "creating hits for other people."
It all started simply enough in 1984 with a reel to reel "editing my little mash-ups" before he met remixer Bruce Forest, and set out to create a remix of "Instinctual" by Imagination. The Arthur Baker-produced original had been given the Stock Aitken Waterman treatment with something that sounded like a trifling attempt at "Rick Aistely" according to Morales in Finn Johannsen's blog. Morales didn't win over Baker and the band either with an out-of-key interpretation of the original, but it sounded "great" to Morales and his resolve paid its just rewards when it became his "first real hit." In DJ History he remembers "Larry Levan telling me, 'Great, great job.' I was like,'Wow, Larry told me I did a good mix.'" That remix laid the foundation for more remixes, leading him onto a path to Def Mix and working with Frankie Knuckles.
Frankie and Morales had been on familiar terms since his time as a dancer at the Loft and had shared the same manager, a studio and musicians for their individual remix requests for some time before forming Def Mix. "That's why we had the so-called Def Mix sound," Morales told Johannsen. With requests flooding in from everywhere, both artists occupied their own sphere in music, with Morales luring major labels to his work, remixing songs like "Dreamlover" for a young Mariah Carey. It's one of the remixes he remains the most proud of today, "because it was a pop record and we did something different with it," he told House of Frankie in an interview. Mariah Carey came into the studio to re-record her vocals and together with the songstress Morales practically re-wrote the song with an intended purpose for the club and today it marks as one of the highlights in an extensive discography.
Morales and Frankie were Def Mix, with each artist bringing their own unique talents to the music of others. Eventually Morales got "fed up" with other people "running to the bank" on his ideas and with requests that were becoming increasingly "one-dimensional." He decided "to draw a line" and "stop giving his ideas away." " I'd rather make my own music for that," he told Johannsen "than to keep doing the same." 
By 1998, after being nominated two times before, he was finally honoured for his contributions to the world of remixing, but by that time Morales had moved on, stopped working on remixes and created  "Needin U." That record came at a time when "Morales sort of got bored of the studio," according to an interview with Higher Frequency. "I was asked to go on the road and I ended up constantly spending more time on the road and didn't have much time in the studio." 
The studio eventually beckoned again, and off the back of the success of "Needin U," Morales started releasing more of his own original work, culminating in the 2004 LP, 2 Worlds Collide. Eleven David Morales originals, featuring vocals by Tamra Keenan, Angela Hunte, Lea-Lorién and Vivian Sessoms, set the tone for this next phase in his career, in which creative compromises would not be entertained for the sake of appeasing a major record label. "I financed the whole album myself and I didn't really care about being on a major," Morales told Higher Frequency around the time the LP was released. "They don't care about the creativity and the heart that goes into it." 
There was a crossover appeal that went to the LP. Staccato horns and strings jut out of the rough orchestration with lively percussive arrangements bulging through the tracks. On the title track, guitars and a snare lifted from an eighties synthwave track almost seem out of place in the rest of the acid House arrangement, but it's uniquely Morales with a verse chorus structure guiding Keenan's vocals through different phases of the song. David Morales had "learned a lot about producing vocals" and it would inform much of his work as a solo artist going forward right up to the present and his last release, "Freedom" with Janice Robinson on vocal duties. "I suppose if you just work within your own entity, you're just working for yourself," Morales explained of his work with vocalists in Higher Frequency, "but when you bring somebody else in, then you somehow have to work it so you get a great piece of work.
While 2 Worlds Collide started a healthy relationship with Ultra Music, Morales also started releasing music on labels like Rekids and Cadenza, and when Def Mix relaunched as a label in 2013, he would return to the franchise with original releases and edits most often under the auspices of the Red Zone project. 
He was with "Def Mix for a very long time" he told House of Frankie. He had been with the institution for over thirty years and had played an integral role in its creation, but it was only by 2018 he was looking for something more from a label, and set up Diridim. "Diridim is just me moving forward on a global scale," he explained to House of Frankie. While Def Mix and Morales' previous work was all about classic "House" Diridim is "about making vocal music." The venture is for "new artists and not just soulful-house music" and Morales is always on the lookout for artists to contribute to the label's "worldly music" vision of House music. 
Morales' unique approach to House music is what informs the sound of the label. His earliest musical roots, playing commercial music to the neighbourhood; his extensive work with female vocalists; and the integral role he played in the earliest development of House music, continue to inform Morales' work. 
We're further away from 1998 today, than 1998 was from the gestation of House music, and David Morales continues to wave the banner for House music today. He will always be a significant figure in House music history, as one of the pioneers of the genre that brought it into the mainstream, and as a DJ, producer and artist, he's cemented a legacy intertwined in the legacy of House music.