*DJ Spacebear stands in for DJ Lekkerman at Den Gyldne Sprekk for the month of January.
It's still early on a Tuesday night and the song "Street Life" is playing on an empty dance floor, waiting for the night to officially start. The upbeat Disco groove, slinking strings and Randy Crawford's beatific vocals contrast the gritty subject contained in lyrics like; "Prince charming always smiles, behind a silver spoon." It's the Crusaders, Lars Moen (DJ Spacebear) informs me, without a beckoning question. "It's a long track" he tells DJ Kompressorkanonen (Orjan Sletner), who is leaning on his flank with the next record, Lars implying that he would like to hear the song for its entirety.   
Much like the Crusaders song, Lars is something of an enigma. His long, straight hair, tied up in a neat ponytail, an ageless physiognomy and his earnest speech pattern are at odds with the stereotypical image of a DJ today. A loose-fitting, Rush Hour records sweater lends the only clue to his musical passions and if you didn't see him behind a set of decks, you'd hardly place him there. Yet, he's been a central figure in House music and Techno in Oslo for the last thirty years, playing records for audiences in their thousands in and around Oslo in the mid nineties, before it fractured and retreated to the underground, where DJ Spacebear continued to be a constant presence in the DJ booth. 
Today he regularly plays places like Hærverk, where he's shared the booth with legendary underground figures like Terrace and Spin Fidelity, and his sets can go from Deep Ambient Techno to the Disco he's currently playing through Jaeger's soundsystem in the lounge.
"I like soul," says Lars in a bare whisper, "because it has an atmosphere" and lately he's been enjoying excavating some of those records again in what seems to be an endless pursuit of discovery for the music enthusiast. Recently, he tells me Disco and Soul has led him down a path t to "swing jazz from the thirties and forties," and even after doing this for nearly thirty years, he's still finding music he's never heard before. Through his own 10 000-strong record collection and an unceasing habit of collecting he keeps going "back in time" and still comes across some things "he's never heard before." 
The first record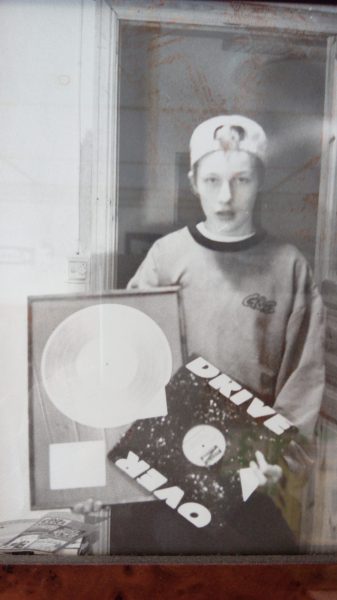 Lars grew up in the suburbs of Oslo listening to a lot of Rock music. "It was a really boring place," but he seemed to find some solace in music from an early age. He "forced" his father to take him to his first concert in 1988 to see AC/DC, but around the same time he was listening to Kraftwerk and Break Machines. "I was really impressed by Kraftwerk," he remembers. "We are the robots, is a record I really remember that is important for the introduction to electronic music for me."
Lars developed the introduction into a hobby and started buying this new music through the cassette medium. He bought Break Machines' seminal debut on cassette and it's a record he will still return to, on the various other formats he's acquired over the years. "I still like it" he says, but if there's one seminal record that set him on path to DJing it has to be Humanoid's Stakker. He originally "recorded it from the radio" on a cassette tape, but he "didn't know what it was," setting him on a journey to find the first Techno record he ever owned. "It was like zero for me" he recalls. The "crazy breakbeat, acid vocoder Techno" had arrived from space it seemed and while Lars had been familiar with these kinds of themes through Kraftwerk's music, Humanoid was "more raw and rough" and its lack of identity consolidated music with  another passion for Lars… an interest in space.
Lars "was really into astronomy" and from that moment, he would spend evenings listening to Techno while drawing imagined landscapes from space. At one point he had to make a decision between a telescope and a record player and he chose the record player, taking the first steps to becoming a DJ. He christened his new DJ alias DJ Spacebear to convey  what he thought about this "music from space with the power of a bear." 
The first DJ set
Lars retreated into his fantasy landscapes and the radio, where he found a wealth of new music that sounded like Humanoid. Radio stations like Radio Nova and their jocks DJ Apple Pie (Christian Grimshei) and DJ Hanza (Hans Erik Hansen) introduced Lars to the world of Techno and House. "These DJs were important to me," stresses Lars and some of the shows he recorded on cassette back then are still in his possession today. He found "a lot of inspiration from these shows," but it would remain a largely solitary passion for him through his teenage years. He was "too young" to go to raves and his insular environment found very few kindred spirits on his block. 
Hip Hop had reached the height of its popularity in Norway by then, and these were the only kids that Lars could relate to during that time. "I had five or six friends that were into Hip Hop, so I hung around with these people, but they didn't like Techno." He bought his first record player in 1991 and had to wait another year to save up for the second, but would join some of these friends in their basements to play some records. They would often get angry when he played an Underground Resistance record. "No, don't play Disco…" they would complain before Lars could defend himself proclaiming "this is not Disco, it's Techno!"
While he "was really alone" in his love of Techno and House at home, in Oslo city a record store owned by Morten Winsnes became a refuge for the aspiring DJ. Winsnes had worked with the likes of radio DJ and hip Hop mainstay, Tommy Tee at Innova Music before establishing his own store and club in the city. Located where the Duo sex shop is today on Møllergata, Morten had stocked the shop with "mostly House and Techno." Personally, the shop owner "was into the hardstuff " according to Lars, but he had all the records from Lars' radio shows with music from Underground Resistance, R&S and Strictly Rhythm lining the shelves. 
Winsnes "imported a lot of good stuff," and had started to notice the young Lars' purchases.  The older collector saw something in his younger contemporary, who had still to graduate from bedroom DJ, and snuck the under-aged DJ Spacebear into the booth of his club, CB4,  "the first permanent Techno club in Oslo."
The first Clubbing experience
"I was never really interested in clubbing," says Lars. "There was no club culture" in Oslo in Lars' opinion, but he was undeniably intrigued by the raves that started cropping up around the city, and naturally gravitated to the music they were playing. 
After he played his first gig in 1994, this music and the rave scene would grow exponentially, and DJ Spacebear would become a familiar name appearing on marques around Oslo. At the height of its popularity, Lars would be playing a rave at Oslo Spektrum with 8000 people in attendance, but unlike most of his peers of that generation, Lars refuses to look onto those times with the rose-tinted hue of nostalgia clouding his memories. At that time the scene was "too commercial," he explains "and I didn't like it, because you had all these separate rooms." There's always been a refinement that appeals to him as a DJ that has only matured since his beginnings, when "everything was a mess." It  was an "exciting mess" nonetheless, and it was through this sonic disarray that he would find his more rarefied style as a DJ.
DJ Spacebear was one of the first DJs I had seen after moving to Oslo. He was playing in Mir, when it was still in Toftes gate, crouching over the mixer and two technics turntables, making minute adjustments on the faders. Two tracks were overlapping like two waves merging on a calm beach, with only slight adjustment in volume between the two pieces. Lars completely ignored the EQ section, merely fading one record into the next with a care that suggested a personal dedication to each track. "I like to have respect for the music," he says when I ask him about his curious style. "I think you should show what the artist expresses." He feigns from using "FX" in his mixes and although he'll be more adventurous with the crossfader when he's playing more jacking Chicago House, that attention to detail in the music prevails. 
It's something that can be heard in the meta narrative of any DJ Spacebear DJ set too. His parents, a pair of "old hippies" that were "really into music" had always given Lars a very liberal freedom to "listen to what I wanted," but when it came to DJ mixes, it was he who started to define the boundaries. In a record collection that nearly covers the recorded format, Lars doesn't consider himself an "eclectic" DJ. "I wanted to create my own worlds," he explains and strives to create mixes designated to distinct spheres in electronic music. While he can be found  "jumpin between planets" from time, these only cover short distances beholden to the theme of the mix, defined by succinct categorisations like Acid, Jazz or when Lars gets particularly contemplative, Ambient. 
The first Ambient record
Ambient music like Techno arrived from space with the Orb's Blue Room in 1992 for Lars. "I was totally stunned by the lush, atmospheric cinematic sound on that record," he remembers "and it had the same otherworldly sound as techno and rave."
Ambient music had already been indoctrinated in rave culture at that point with raves sequestering a specific space for this kind of music in the chill-out room. While "train spotting some records that Mr.Kolstad (one of the members of Superskill) played at a rave in 1994" in one such room, Lars' interest piqued and "started crate digging in used record shops to find out more about this old future." It was music that extended long tendrils into the furthest reaches of recorded music, and it informed a large part of Lars' own "experimentations" in the booth. Even today, he's looking for those gateways to different planets between techno, house, acid, breakbeat, hardcore, and trance with ambient records like Pete Namlook's FAX record, often bridging these gaps in one single record. 
At some point these fluid transitions between genres would start stretching the divide and that's when the rooms at raves started splitting further and further apart in Oslo. Euro trance eventually ascended on the city too, saturating the last embers of a dying rave scene that couldn't compete with the commercial dominance and people like Lars "pulled back to the underground." Clubs like Skansen and Escape established new microcosms in Oslo clubbing shortly afterwards and Lars naturally moved with the Techno crowd and became a regular fixture in the booth at places like escape. 
The first drum Machine
During all this time he was nurturing a slow and steady development as an artist. He had bought his first drum machine, a Roland TR606 for 300kr after he saw DJ Hanza and Lars Petter Holte perform as D.A.C in a record store in Oslo. Already harbouring a curiosity for the mechanics of the music, there was an "a-ha moment" when he saw their performance. "It looked like a spaceship" he remembers with Holte and Hansen pushing buttons and turning knobs from their unusual control panel. "I have to do this," Lars remembers thinking at the time and he would start incorporating the TR606 in his DJ sets at home. "I didn't start making music," he insists, "I just played with it."
Getting to grips with the machine was easy and eventually he made some "really horrible" music with a friend, but it was only much later in 2008, that he would release his first records. It was "horrible time" however as the vinyl market had all but collapsed with Tech House DJs spawning like a digital virus on beatport. DJ Spacebear released three records on his own Retrace label in that year nonetheless. They were a selection of "old music" that Lars had been gathering over the years, with frenzied analogue drum machines and sinewy synths, playing to the functional demands of the DJ in a kind of modernised interpretation of retro Chicago sounds. 
They are records that were ahead of their time in terms of 2008 and would probably be more appreciated today, in the resurgence of the DIY nineties trends, than they would've been at the time of the uber-produced minimal Techno and Tech House that dominated the later half of the naughties.
"I think it's more exciting than ever," says Lars about the conditions today as we talk about some of the younger DJs and producers coming through in Oslo, appreciating these same sounds. "People are really interested in the history" he believes while "looking to the future." It's in this landscape he will be releasing his fourth record on Retrace as DJ Spacebear, informed by that same "retro Chicago" sound that defined his earliest music. The two tracks on this next release will be a couple of "jacking acid, old-school" tracks says Lars, but at the same time he's already talking about the release after that one.
While his first records came out when everybody in Oslo was gravitating to Rock music, and DJ gigs were few and far between, this time around it seems that the rest of the city is finally on his wavelength. He had remained dedicated throughout those quiet years, biding his time with a radio show on Skranglebass and DJing when the rare gig cropped up, and today it seems that he is as busy as ever with a residency (or as close to one as you can get it) at Hærverk and playing every week, often twice. 
While the week before he had been playing a selection of Jazz electronica at Hærverk, on this occasion it will be Disco. In the week coming there's a liquid drum n bass set in the wings, while the future will also see him playing alongside Detroit legend Orlando Voorn at Hærverk. 
He's still digging through it all and while we wait around for Tuesday night to swing into action, he's talking about a recent trip to Brazil, where he found some records of field recordings that "you can play in an ambient set" and the hidden treasures of Phillippenian Disco. 
He is still digging for new and old music in search of any "creative surprises" and he continues to "discover a lot of interesting Drum n Bass, Ambient, Dub, Drone, Dubstep styles like Martsman, James Clemens, Synkro and Shackleton." It's just one "smooth transition" to the other for Lars and as a music enthusiast the limits to his curiosity continue to go undefined. He's merely an intrepid, intergalactic traveller, moving from one body to the next in an unabating curiosity, and a truly musical dedication for the records he plays.