Do you think the Det Gode Selskab will go on forever or do you see an end to it?
"I don't think I see an end to it," says Terje Dybdahl punctuating the sentence through staccato giggle. "Is that boring? I don't really picture a life without hosting events."
Terje Dybdahl (Tod Louie / Dick Dennis) and Det Gode Selskab are in their ninth season this year and have already left an indelible legacy on Oslo's electronic music- and DJ scene. Terje  and his partner Christian Berg (Solaris) have taken the Det Gode Selskab from a simple party concept to a DJ collective, events series, festival and label over the course of their existence and even with a decade of Det Gode Serlskab approaching, there seems to be no end in sight for them.
"In the future we might do things on a smaller scale" says Terje, contemplatively sipping at a glass of white wine on a sidewalk in Grünnerlokka, but it's hard to imagine Oslo, especially on a hot day like today, without the Det Gode Selskab's presence. 
For the last nine years Det Gode Selskab has taken clubbing al fresco, moving club culture out of  dank basements and into the fresh air, recontextualising it in Oslo's striking natural surroundings, from fjørd to forrest, as a backdrop. Together with their weekly residency at Jaeger with Philip Hinz, Det Gode Selskab are a weekly fixture in the Oslo scene and as they move into their teens and broach the next evolution as a label, they are taking Det Gode Selskab into brand new territories.
As Tod Louie, Terje has embarked on this next phase with Det Gode Selskab in a new phase for Tod Louie, Dick Dennis, and Terje Dybdahl. Although he has permanently staked his claim as a DJ, he's finally made that leap into the studio to add producer to his list of titles, with a new 12" released this week through the Det Gode Selskab record label.
After A:G debutted DGS records last year with the Nose EP, Tod Louie continues the label's journey through the five senses, looking towards the future of the label through the aptly titled "Eye," (or "Øye" in Norwegian).  
The 12" is Terje's first foray into production as a fully-fledged artist. Following the collaborative remix on DGS001 with Karl Fraunhofer and Solaris, Tod Louie makes his mark with the title track and shares the record with remixes from label partner Solaris and long-time associate Mike Shannon. Terje's original undulates over a bedrock of metallic kicks and bulging basslines, with frosty synthetic textures, coaxed from a modular synthesiser floating in the upper atmosphere of the tracks. 
After making a significant contribution, well into the track. These fundamental elements give way to a quirky pseudo-improvised hook that charms and warms the listener to a human dimension behind the track, before lurching back into that stoic groove that underpins it all and Tod Louie's sound as a DJ.  
Groove is essential to the way Terje approaches music, with "mostly basslines" drawing him to the tracks he plays in his sets.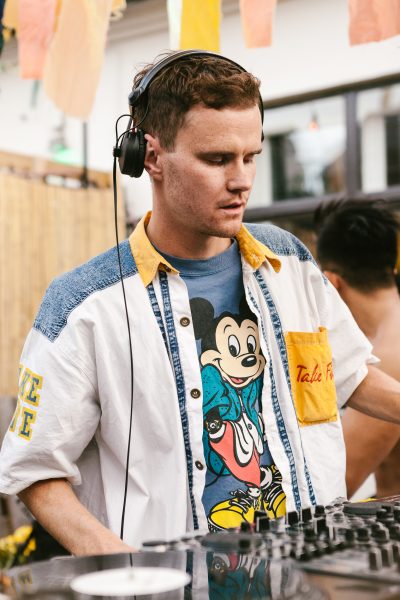 The Eye has been nine months in the making and for Terje it's a "track that goes through four seasons." "You get a lot of time to consider all the elements," explains Terje, and it was during this maturing period that Terje felt emboldened to finally take that step into the role as producer, something which he has eluded him in the past due to the time constraints of being a full time DJ and promoter.
Terje "could have easily started a new project" during the time it took him to finalise the Eye, but his stubbornness and the "need to finish it" prevailed and eventually the Eye made it out into the world to critical acclaim from the likes of Mixmag and DJ Mag. "It's a strong track" according to Terje and the reviews concur with an 8.5 out of ten from DJ Mag. The Eye sees him consolidate the Tod Louie sound as an artist for the first time, taking his distinctive sound as a DJ into the recorded format for the first time. 
Although Terje "was making music a lot" as "a teenager" he "never really took the time" to realise his creative vision with the allure of a social life being too dominant in his formative years as a DJ and promoter. "The party fascinated me more," says Terje with a knowing grin. Being a "social" person he took more joy from seeing "people's immediate reaction when you play a record," than the extended reception that comes with putting a record out. 
The "interest" for rhythm and the "skill" has always been there with Terje nonetheless, but they remained untapped till he could devote enough time to that pursuit. 
Born and raised in rural Mysen,Terje a self-proclaimed "farm boy," grew up in a very musical household. Terje hadn't been the only Dybdahl who had found an affinity for promotion. His father, a local bar and restaurant owner had started putting events together with a focus on music when he took over the family business. "Since it was in the countryside you maybe had a club on Saturday and Fridays it might be more country music," remembers Terje of his father's endeavours. There would always be music playing around the house too and when his father "and some friends decided to turn a piece of land on the back of the farm into a festival space," the peace and quiet of the rural countryside was forever disrupted in the Dybdahl family home and it got "quite busy there for ten years."
Terje was about three years old when they held their first event. He grew up in the "middle of the festivities" and looks back on that era with great fondness: Late night rendezvous at the house after a party with his dad playing some rockabilly riffs courtesy of Roy Orbison and Elvis on the piano had kept a young Terje awake at night, listening intently to the hammering of the keys. 
Being born of a certain era, DJing and records had naturally planted the seed for a career in music. He had found a kinship with neighbour and future DJ and promoter Ole-Espen Kristansen (O/E). The pair started Djing together when Terje took over possession of his older brother's decks. They played their "first big gig" when the people behind the Hyperstate festival used the Dybdahl farmland for an event called Atlantis, which saw Terje and Ole-Espen play on the same bill as Sasha and Ferry Korsten.
The bug had bitten, and by the time he was twelve, around 1999, an "interest for playing records" had taken up all of his free time. "CD mix compilations like global underground from Sasha" and an eclectic record collection that ranged from European Trance to classic House had informed his early musical development, before finding his voice later as Tod Louie in the age of the minimal Techy sounds that dominated Europe around the latter 2000's.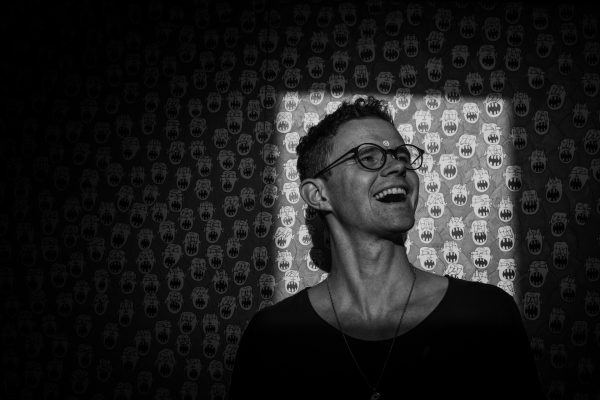 He was a diligent student too and had a career path laid ahead for him to study space physics, but some bad career counseling and a life changing moment had set Terje on a very different path.
"The only place to study space science was way up north, and I had just found out I was gay, and I was like no, I'm not moving up there now." Instead he moved to Trondheim to study communication and marketing and at the same time started hosting his own parties.
It was "around the time Facebook arrived, so everything was really new," remembers Terje. "In the beginning it was venues, promoters and DJs that fuelled facebook with content," and while he was spending his days studying its effects, he spent his nights putting it into practise. "That was interesting, and after that I really understood I had a talent for PR and marketing."
It was in Trondheim that he would meet Christian Berg, who was studying music management at the time. They set up the Beat Foundation as Trondheim's precursor to Oslo's Det Gode Selskab, and had instantly found a dynamic working relationship where Chris would take care of the bookings and Terje would apply his skills which tends to "care more about the social aspects" of the events. 
They took the concept to Oslo where it was reborn under a new star as Det Gode Selskab and nine years on, the concept is still going strong. 
What's the secret to their longevity?
"We try to reinvent ourselves," explains Terje. "I think we did a pretty good job of keeping it interesting, and being a pop-up club and setting up in different places keeps it interesting" and of course keeps people interested. As a concept Det Gode Selskab is in a constant state of evolution and it's only their weekly residency at Jaeger that's remained consistent these last few years. 
That constant state of evolution is something that underpins Terje's own career too. From playing ""european trance club music, english house influences, maybe a little harder house, but also garage" in the beginning to the more minimal techy stuff that he and Det Gode Selskab are none for today, Terje's constantly repositions his purview from the DJ booth, and now the studio, with that "essential" groove underpinning everything he does. "Sound revolution – that's what I want to present," says Terje in a deadpan tone. 
Sometimes he just wants to indulge guilty pleasures though, and to that end he's created the Dick Dennis moniker. Dick Dennis is the naughty city slicker to Tod Louie's coy farm boy. It's a DJ character that Terje has created originalluy for the queer events that he and some of Det Gode Selskab host together under the Everysome banner. "It connects in a good way" with Det Gode Selskab with residents often playing at Everysome and audiences moving between these two concepts without much re-adjustment.
Everysome is Terje's connection to the Oslo queer community and guests have included luminaries like Eris Drew. It's a platform to let Terje's "naughty" side loose and that's where Dick Dennis naturally thrives. Playing between those early garage influences, classic House, eighties Disco and screeching diva vocals, Dick Dennis' record bag looks very different from the one that Tod Louie prefers, but through the groove and energy they find a common ground. "People work Monday to Friday, they need that energy," explains Terje. "They're not going to pay 150kr to sit there and wait. "
It's that desire for immediacy and that need to deliver, that perhaps even inhibited Terje's foray into the production chair. Although, I'm sure he would be quite content never donning the producer cap, there seems to have been a definite urge for some creative expression that has resulted in the Eye. Some frustration and possibly never having the right context had played its part in Terje's late start as a producer. Although there had always been a piano at home, Terje never took up the instrument, and the limitations of his skillset had never truly found the right conduit for expression, until Karl Fraunhofer and Christian Berg help channel his ideas through the synthesisers and machines. 
"My creativity stops with my hands," he remarks and although he would always eventually "get there" it would never  be "as fast as you want it to be like in a jam situation," so Terje would often abandon musical projects before they were completed. So what change? Finding the right people to collaborate with. "It's good to bring in technology or partners," says Terje who often found it difficult to get down ideas from some vocalisation of a rhythm or a melody. That's why he says it's "always nice to collaborate with others." Collaborating with Christian Berg and Karl Fraunhofer as a Det Gode Selskab trio has paid its due diligence on Terje's own writing and producing endeavours, which all led to the Eye.
The three artists share a studio today and the effects of the collaboration and the new creative environment has certainly had an influence on Terje's work, which the "Eye" can attest to. 
The press has hardly had time to cool down, and he's already talking about future works."Now I want to go on to experiment with House and bring in more ravier sounds," he says. Motivated by the sets he's been crafting as Dick Dennis and the likes of Eris Drew, whose "energy in the booth and persona" has been an inspiration to Terje lately, Terje is at the cusp of a new revolution in sound as a DJ, promoter and of course, now an artist. 
His predictions on the future and where it will lead Tod Louie and Dick Dennis are still fairly vague, and it seems that he is still formulating and compartmentalising them as our conversation turns to the future. With the newly created Dick Dennis character, Everysome, the label and the music, it seems that there is still no end in sight for the collective and its central figure Terje Dybdahl. 
*The Eye is available now at Filter Musikk.
*Terje plays every Sunday at Jaeger with Det Gode Selskab.