Konstantin Sibold should already to be playing, but I see him jostling for position in the thick of the crowd in Jæger's courtyard. The crowd is tightly huddled together in the centre of the al fresco dance floor, keeping the brisk temperatures at bay as more and more people spill out of the bar. Konstantin gives up. "It's too tight in there" he yells over the system. Ever the professional, he's looking for a sonic reference ahead of his set, something to sway the direction in which his set might go, but on this occasion a visual cue has to suffice. "It looks like a ski-resort" he muses before slipping past the gate to disappear into the booth, where he takes over from Olanskii. Segueing into a ravy Techno track, building on that energy the Frædag resident has been cultivating over the last five tracks, Konstantin's presence is felt immediately.
I don't recognise the track, but it could be the unreleased Maceo Plex he was telling me about earlier in the Hotel lobby, where our conversation started at how he prepares for a set. Konstantin is incredibly relaxed and effervescent, a great Interviewee, plying you with more information than needed and just enough to hold your attention. He takes me through a list on his phone, literally made up of "thousands of tracks" that he's harvested for future and past sets. They are made up of new, unreleased tracks like that Maceo Plex track, to Four Tet's Buchla, an "old one I want play again". For Konstantin it's  an "ongoing process of being into music all the time" and it's a process that manifested itself early in the German DJ and producer's life.
As an 11 year-old, Konstantin had a precocious start in music, picking up production quickly through computers in the way, only a pre-adolescent teen could. Production eventually lead to DJing as a natural evolution for a 15 year-old Konstantin, and today it's the role he feels most comfortable in as an artist. "In the end I think I'm more of a DJ" he tells me while leaning back into his chair. DJing seemed to come naturally to Konstantin and while still a student, at the tender age of 21, he became the youngest resident at Rocker 33, a Stuttgart clubbing institution that provided a platform to prominent careers for the likes of Motor City Drum Ensemble and Moritz von Pein.
Konstantin's induction was a trial by fire and applied him with the necessary tools that made him the DJ he is today, a "highly adaptable" anomaly in the booth that is able to modulate with his audience, while retaining some artistic identity.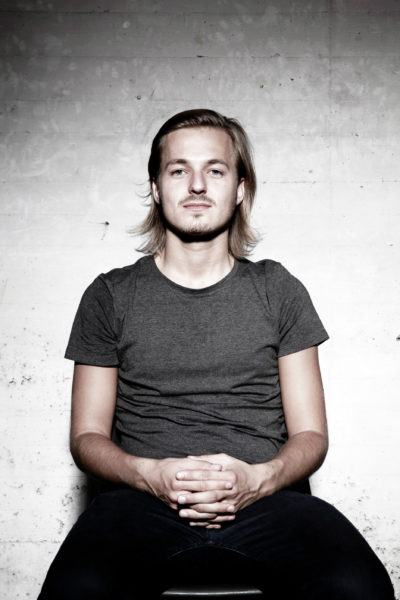 Later that evening after our interview the energy is electric in Jæger's backyard, peaking at excessive levels, and then suddenly a drop in the bottom end. A wispy melody of some unknown origins builds tension and the whole crowd lurches forward, towards the booth as one. There's a moment of inextricable pause… it's nearly silent… and then an exhilarated whoop from the audience as the bass and drums kick back in to the pulse of the dance floor.
Growing up in Stuttgart, Konstantin's quite familiar with how to appease a zestful crowd. A working class motor city with relatively early closing hours (compared to other places in Germany like Berlin), there's an "instant energy" that Konstantin had to cater for as DJ. People that arduously labour in the car industry, often six times a week, require that immediacy of escapism that only harder dance genres like Techno can provide. There's an unspoken expectation where "people in Stuttgart don't care about genres, they care more about energy levels" and not every DJ or style of music can often accommodate this attitude. "For people like Soulphiction/Jackmate and Danilo (Motor City Drum ensemble) it's a bit of a different vibe" suggests Konstantin, "because they are people that don't (cater) to an instant delivery." DJ's like these often don't "feel at home" in Stuttgart, and as in the case of Motor City Drum ensemble left "pretty early" in their career.
Konstantin and Motor City Drum Ensemble both came through the ranks at Rocker 33 at the same time and whereas the latter moved away for a more receptive audience, Konstantin stayed and quickly realised that it's a matter of "deliver or die" in Stuttgart. Asked to play with the likes of "Adam Beyer, Josh Wink, Michael Mayer and Ellen Allien" during those early years, he had be able to play "everything from A-Z" while maintaining those Stuttgarter energy levels. Back then, as a vinyl DJ, preparation was key. Konstantin had to be able to adapt to a "new musical setting, almost every week" and it plied him with the knowledge and experience to "push boundaries" and to stay "open to every genre" and it's something that has followed him through his entire career up to the present.
"As an artist I want to stay unpredictable", he tells me back at the hotel. His ability to find a symbiotic relationship with the dance floor is something embedded in his approach to finding new music. With various playlists at his disposal in the digital format, he has everything from "wedding music like Abba" to "Techno from Dozzy Donato" at his fingertips, allowing the DJ to always "keep it open" for any situation. While walking to Jæger he tells me how during one closing set at Panorama Bar he segued a Helix track – a UK bass track from the Night Slugs label –  into Madonna's Music. "It's the best transition I've ever made" he enthuses, and it says something about the whole ideology behind the DJ. "For me as an artist it's better to stay highly adaptable, because that's my biggest strength."
Two years after first getting the residency at Rocker 33 and playing with big name DJs, Konstantin and his "best friend" Leif Müller established Common Sense People at the club with that same philosophy. Although they started out booking DJs that fell into specific genres like House, they quickly moved over to booking people like Gerd Janson, Redshape and Roman Flügel and more recently the likes of Avalon Emerson, Johanna Knutson and Helena Hauff; acts that occupy a kind of suspended universe between genres in music. It's "everything that (isn't) Techno and (isn't) House", explains Konstantin. "We always book the acts that no-one else is booking because (they're) in between." Konstantin even suggests there's a "strictness in openness" to Common Sense People and their audience in Stuttgart "get that". The Common Sense People audience is perhaps a bit more patient than the rest of Stuttgart suggests Konstantin; a residency where he and Leif can "hold the pace" of an entire night. "When Leif and I play all night-long sets we can keep it low for a certain time and we keep it deep and trippy, because we know it works. "
How does he transfer this philosophy to a night in Oslo and Jaæger where the nights are even shorter? "Like a chameleon I always change to suit the environment." He's done his research before coming to Jæger too, figuring it's "somewhere between Berghain/Panorama Bar and Robert Johnson" and from the first track, Konstantin's set finds some compromise between those two aspects. Combining Techno's more energetic rhythm sections, with a very distinguishable melodic approach, the tracks touch on elements of Trance, Rave and Techno, with modern production twists. Melodies reach hedonistic heights with a functional percussive demand, that bear very close resemblance to Konstantin's own productions.
Exploring elements of "sample house, deep house" early on his music career, he later "went into indie dance stuff", before finding a sound that perfectly suited his style and his personality. "Over the years, I've found my red-line, which is ravy, kind of Techno stuff", says Konstantin who also describes his music as "retro-modern" and "a bit trancy". His acclaimed 2016 release on Running Back Mutter sums this up perfectly. A dynamic Techno track with rave and trance influences, it features an arresting melody that sticks with you for sometime. With long stretches of just melodic refrain and a minimalist arrangement, it favours a club context with the DJ firmly in mind.
Konstantin had been working on this sound for a while and you can also hear those elements in his breakthrough 2013  track, Madeleine for Innervisions; the track that spread the name Konstantin Sibold across Europe, where bookings followed, cementing his reputation as a DJ and a producer. Although Konstantin started out in music as a drummer, it has always been melodies that piqued his interest in the role if composer. "My songs are song-based and very melodic" he says to the point where "people say that I make pop music with Techno elements."
I'm curious if a track like Mutter might have pigeonholed him as a DJ with promoters and venues strictly booking him for this sound. "Maybe a bit" comes his reply " but I think every artist has that, when they have one big track, that the audience refers to; that's why I do stuff like the Red Axes remix." Konstantin's Afro Remix of Red Axes', "Sun my Sweet Sun" is a polyrhythmic percussion workout of the original, retaining the melodic nature of his own sound, but opting for a more Tech-House arrangement. While some critics close to Konstantin suggested the remix is too close to a "cheesy Dixon track", Konstantin feels more confident in his role as a remixer than as a composer. And with over 400 000 views on the label, Permanent Vacation's You Tube page the success of the track speaks for itself.
I'm not sure if it's divine providence, happy accident or purposely, but going out of his first track at Jæger, Konstantin plays a Red Axes remix of Tanz Exotique. Every body is moving our in snug courtyard, and Konstantin is beaming in the booth.
Earlier he was telling me about his admiration for the DJ ND_Baumecker, and there's something in Konstantin's approach that he shares with the Panorama Bar/Berghain resident; an innate ability to re-contextualise divergent tracks within a singular set. Like Baumecker playing Wham into a maximalist Techno track without missing a beat, Konstantin playing an afrocentric Tech-House track from Red Axes right after the ravy introduction, is highly adaptable, but also very eccentric. He doesn't pander, but flows with his crowd and on this night in Jæger's courtyard he keeps the energy high and energetic.
"I didn't realise he'd play this hard" somebody tells about halfway through his set, but it's not as hard as it is dynamic and fervent, and on this occasion Konstantin definitely delivers.
*Frædag returns this Friday with G-Ha & Olanskii and this week's guest Andrew Weatherall.