Olivia Ra-Shidi has gone from learning to mix to playing a stage at Insomnia festival in less than eighteen months. A precocious talent, the young Ra-Shidi has an innate musical ability, fusing organic contrapuntal rhythms with vintage synthesisers in exotic mixes forged from chimerical musical landscapes.
She's a resident and a booker for Circa and Storgate Camping (Oslo Camping's northern counterpart) in Tromsø. Between booking these venues and playing, Ra-Shidi has become a dominant force in the arctic city as one of the next generation of DJs breaking through from Norway's first electronic music city, where Bjørn Torske, Mental Overdrive, Biosphere and Rune Lindbæk first staked their claim.  
Under the sage guidance of her mentor Charlotte Bendiks, Ra-Shidi has joined the ranks of these legendary figures and bears the torch of their legacy for contemporary audiences.    
She has cultivated a unique sound as a DJ, going from the "minimal Techno" of her early sets to the more eclectic sets we hear from her today. It's a sound she says that she "started figuring out" after playing Oslo a couple times. Noticing "a huge difference between the audiences in Tromsø" and those of Oslo, Ra-Shidi has adapted her music accordingly with that inherent, acute sense of a DJ it takes some people years to refine.
She's made phenomenal strides as a DJ in mere months, and very rarely takes a break from music. "You don't have a day off in a life where you love what you do", she tells me over a telephone call on the Monday after her Insomnia appearance. It's her day off, but she's put some time aside for us to field some questions about her musical history and the scene in Tromsø ahead of her next appearance at Jæger as part of the Oslo world line-up.
How was Insomnia?
I was part of the line-up through a program called 'Cloud Exit'. DJ and producers from northern Norway could send in mixes or productions of their own, and there would be an external jury, choosing the four people to be part of the lineup. I was one of those four and it was interesting. You also get a mentor and get to be promoted through Insomnia and their festival partners. It is a very huge opportunity for up-and-coming artists.
Who are some of the festival partners?
Sónar, Barcelona and Mutek. They are part of the Shape Platform. They have a lot of huge festivals as well as small underground festivals.
I imagine Insomnia would be a bigger crowd from what you've been used to playing up until now?
Yes, but it's also a safer crowd, because I'm from Tromsø. I've gone to Insomnia every single year since I started clubbing. I was a bit nervous because I was standing on an actual stage, but the crowd was people I'd met every single year at Insomnia, so I just felt really safe and it felt like I was home.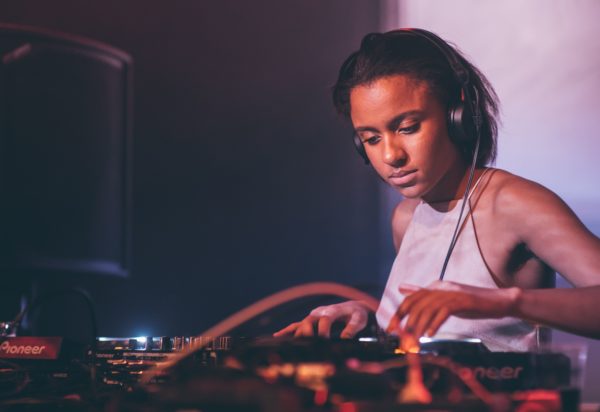 Ra-Shidi grew up to the music of "Mental Overdrive and Bjørn Torske", dancing to the music her older sisters would bring home. A mere child at the time, she wouldn't quite grasp the significance of these early musical experiences until later. As she grew older, "she would finally understand these artists are from Tromsø and that they would play" in the city quite often. She would go out to places like Verdensteatret to hear these "local and international heroes" play and dance with abandonment to their electronic sounds.
As a student of classical music and various instruments through after-school activities, Ra-Shidi found a release in electronic music that had eluded her in the classical dialect. "There were so many rules to it," she explains, "and with electronic music you could not care about the rules and do your own thing." When she danced to electronic she "really felt like the true me came out."  
While some of her friends had already started DJing at that point, Ra-Shidi had remained quite impervious to a career as a DJ at first, because "I always felt it was much more difficult than it actually is." After a few impromptu mixing sessions at house parties she was encouraged to explore DJing further and when friends noticed her impeccable musical tastes and proffered; "why don't you play Olivia, you listen to stuff we haven't heard before."
With the resources of Tvibit (a local training platform for burgeoning musicians, producers and DJs, replete with studios and DJ equipment) at her disposal Ra-Shidi nurtured her own talents and found something in DJing she hadn't really experienced with her various after school musical activities. "DJing ended up being the creative outlet that I've been longing for quite some time."
Do you think the classical music training helped in terms of picking it up a bit quicker than your peers?
Definitely. From playing different classical instruments where you also counted till eight or sixteen, you already new all the rules behind music. Also the electronic music community in Tromsø is a close knit community because it's such a small city so getting help was never hard.
What sort of music were you playing when you started?
I have not been playing for such a long time, so I can't really say that my taste in music or style has changed very drastically. In the beginning, any genre of music as long as it has ethnic rhythms, very African and latin American vibes.
Yes I picked that up from Jæger mix too, the complex, interlacing rhythms, but also very electronic at the same time.   
Exactly. From the beginning I was not (loyal) to a genre or anything. As long as I could dance to it or feel something when I heard it, I would download it. I also mixed a lot of genres and in the beginning there was a lot of minimal tech, but that eventually ended. Now, the one thing all my tracks have in common is that they are very percussive. I like tracks that are more organic.
Is that the same thing that you played at this recent Insomnia set?
Since I started the evening, I tried to keep it more upbeat, but yeah, it was definitely the same thing. It was very percussive and you had a lot of mystic and occult tracks, with some dark sounds, but then I would also try to contrast it with some more synth heavy old-school house track. I've always been the kind of person that enjoys irony, doing things for the sake of it, because it kind of doesn't fit together. I like showing people the contrast and that you don't always need that pure dark Berghain techno set if you don't want. Break the rules and do whatever you want.
I have so many influences so I've never been able to decide on what type of electronic music I generally enjoy that I want to play. Maybe I'm just being a little egotistic and I just want to do it all and have it all.
I think that is very much a Norwegian thing, DJs tend to dig deeper and from a more diverse palette than anything I've experienced before elsewhere.
Definitely, and also just from hearing the different sets from different people like Charlotte Bendiks, who is also my mentor for the Clouds Exit program. So many of these people would show us the diversity within the electronic music genre.
The Clouds exit program is very much in the tradition of Tromsø and elevating its own. Built on a "close-knit" clubbing community where it is like "having a huge house party with our friends every time you go to Circa" according to Ra-Shidi. There's a very DIY community-based tradition in clubbing culture there, based on the idea of dugnadsånden; the communal spirit of coming together to achieve something without the need for compensation.
The thing in itself is its own reward and in that spirit the clubbing community also come together." We know we've got to do things ourselves," explains Ra-Shidi. People and club concepts like Houseboden for example exist because of this DIY infrastructure and that's why "if you're out clubbing in Tromsø, you see a lot of people have a certain ownership to the night" according to Ra-Shidi, "because they've made it happen themselves."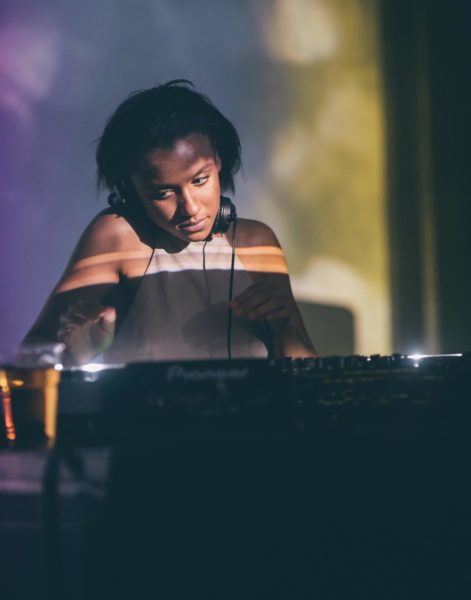 The idea of dugnadsånden is also how Ra-Shidi had her start as a DJ. "I just went up to the manager at Circa and asked if I could play there, and he just said, 'yeah sure'." Unfortunately, Circa is coming to an end in two months, and Ra-Shidi is hoping Storgata Camping will carry the beacon for the clubbing community, with more reserved bookings but with a bigger impact to attract the larger audience to fill the dance floor.
In Tromsø, club concepts like Houseboden have started to bring in more international acts and it seems that there's certainly more of this on the horizon as this generation of club enthusiasts takes it in their own hands. There's a lot of pride in the the "history of Norwegian Techno and House started in Tromsø" says Ra-Shidi even with this new generation and "especially after Northern Disco lights came out."
That's interesting, did that make an impact even in Tromsø?
It reached out to a broader audience in the city. I think a lot of people also started listening to the older tracks and started checking out things like Beatservice records who had the Prima Norsk series. It kind of opened their eyes to Norwegian producers I guess. As for the environment in itself that didn't change much.
In an email exchange earlier you explained that you're moving towards production, and especially considering your background as a musician, I imagine this is something that you would like to explore. So what's happening with respects to making music?
So far, not much. I only started playing 18 months ago. It's gone really fast, and it didn't really give me a chance to think about what was going to be my next step. I've had a lot of good conversation with Charlotte when I asked her to be my official mentor and she said; "just start playing around with and get familiar with it." So far I'm just playing around, getting familiar with it. I don't have any goal like putting out an EP in the next few years. I feel like something, but it's  really hard for me to translate it in a software.
For the moment Ra-shidi is happy biding her time as a DJ, but she will almost definitely add producer in the near future to her credentials. She's a rising star, not only in Tromsø, but in the rest of Norway too, and one to certainly look out for in the future.