The last time DELLA and Homero Espinosa got together, it was on the House scorcher "Burning Hot". On the track a syncopated beat skips over a low-slung bass hook like it's a bed of hot coals, perfectly poised for the dance floor where DELLA's salacious vocal pulses through the arrangement. An upbeat key arrangement skims just above the surface, before floating off into the distance on some euphoric trajectory, looking back with a reverend nod to the deeper elements at its core.
Released in early 2018, Burning Hot was the first time DELLA and Homero Espinosa worked together, but their West Coast connection and deep appreciation and respect for the origins of House music forged a track out of the foundation of House music that went on to climb the Traxsource charts.
Homero Espinosa's story begins at the height of House music on the West Coast, San Francisco to be precise. Like DELLA, his education starts on the other side of the booth, on the dance floor during the emergence of the budding warehouse rave scene in the Bay Area. From the dance floor to the booth he cut his teeth at ground zero during the nineties, taking up DJing and eventually production as he evolved with the scene.
Together with Chris Lum, David Harness, Ivan Ruiz, Cubase Dan, Allen Craig and Sergio Ferdanz, Espinosa established the label Moulton Music with a close-knit community at its core, picking up releases from local peers like Fred Everything and Mark Farina. It's the label that brings most of Espinosa's own music to the world and together with his music on labels like Strictly Rhythm it established a career as one of the most respected producers and DJs in the Bay Area.
If he's not working on his own music or running Moulton Music, he's collaborating with the likes of Mark Farina or Allen Craig as Yerba Buena Discos. He's found an audience in Europe too with tracks on mixes for Fabric and Ministry of sound mix compilations, and now makes regular trips to the continent, bringing a little history of West Coast House music with him wherever he goes.
On his next visit to Europe for ADE, DELLA's Drivhus added Oslo as another stop on the itinerary. But before the pair would be reunited again, this time in the DJ booth, DELLA sent Espinosa an email to find out a little more about his music and career and it went:
"Hi Homero, I am super stoked that you will be joining me soon behind the decks in our little gem of a club, Jæger. Like I mentioned earlier in my mail, I do an interview between myself and my guests for our Jæger blog. I am looking forward to now learning more about you musically. ;)"
Homero Espinosa obliged and somewhere over the pacific on his way to Amsterdam, he responded in kind with details about the origins of his career in music, Moulton Music and a little taste of what his set might sound like at Jæger this weekend.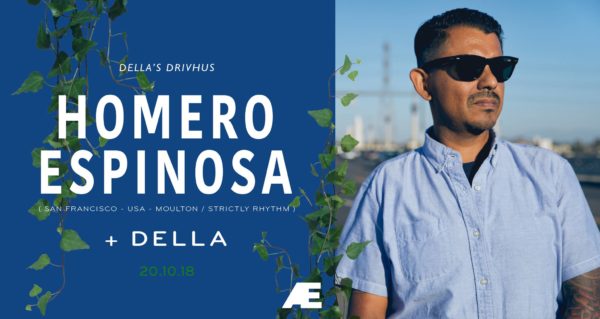 Della: I am beyond excited to be joining you behind the decks at the next Della's Drivhus. You have been both a great inspiration and support for me as an artist, would you mind to tell us now a little bit about your journey? When and how did you start getting involved in House music? Who is Homero Espinosa as an artist?
Homero Espinosa: Hi Della. First off, I'm super excited to come out and play some music with you and thank you for making it happen ☺. I was very fortunate to be part of the late 90's rave scene in San Francisco. I grew up listening to DJs like Mark Farina, DJ Sneak, David Harness, and Doc Martin to name a few. After a couple of years of going to raves I was inspired to pick up a set of decks and learn the craft. We were pretty spoiled back in the day with all the amazing records stores, from Primal Records in Berkeley (my second home) to Tweekin Records in the City, I was surrounded by amazing artists, sharing their love of music with me. Shortly after, I started hosting my own events, small undergrounds, around the San Francisco Bay Area. I didn't start getting into production until around 2006 and one of the very first songs I wrote, Can You Feel Me?, Mark Farina licensed for his Ministry of Sound Sessions mix comp. It was off to the races from there!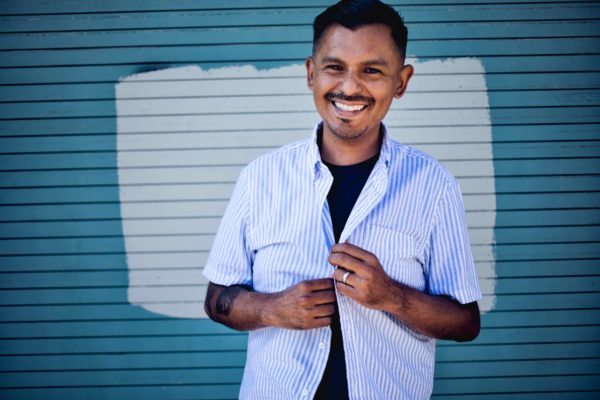 D: You are based in the Bay Area, California (San Francisco / Oakland), this area is known for its own unique influence and sound in House music. Can you give us a short history lesson on the legendary San Francisco House scene and why the Bay Area has emerged such deep/soulful vibes in dance music and continues to do so?
HE: As I mentioned earlier, the San Francisco rave was MASSIVE in the 90's and early 2000's. Every weekend there was at least one, sometimes, 2, or 3 huge raves with over 20k in attendance and all the clubs were packed to the gills. We had the European influence with such crews as Wicked and also the roots of the San Francisco LBTQ communities with disco and soulful house with David Harness. Mark Farina also had his weekly event, Mushroom Jazz, which was all down-tempo instrumental hip-hop and jazz. So much amazing music every night of the week!
D: Not only are you a producer / DJ, you are the cofounder of Moulton Music. A label that sends each release to the top of the House charts and is one of the strongest players in House music today. How did becoming a label owner stem out of the seed of your House music experience? What do you find is the most rewarding, and what challenges you from running your own label? To those up-n-coming djs, would you advise starting a label to help gain success in their career?
HE: I have to give it up to Chris Lum. I was renting a studio at the legendary Moulton Studios compound in San Francisco. I became close friends with Chris and it was there that we decided to launch Moulton Music along with David Harness, Ivan Ruiz, Cubase Dan, Allen Craig and Sergio Ferdanz. I'm very lucky to be surrounded with such talented artists that give me so much amazing music to put out. For the up and coming artist and labels, consistency is the key. We release a record every 2 weeks and we're usually 3 months out. I also made it a point to build connections with the people that sell our music. Traxsource has been instrumental in our success and that all started with me reaching out to the folks running the site and building a relationship. I know everyone who touches our music and I make it a point to know more about them. This business is all about relationships.
D: Is this going to be your 1st time playing in Oslo? What do you recognize as differences from the US House scene vs. Europe?
HE: Yes, I am looking forward to it! The US scene has more soul because of our culture and the connection to rhythm and blues and is reflected in what the audience wants to hear. Every time I play in Europe I have to play a little harder, a little faster, but I still stay true to my roots.
D: You and I had the opportunity to work together in the Moulton studios last year (what a brilliant experience it was!) and you have collaborated with many talented artists, including house legends such as Mark Farina. As a producer and label owner, what motivates you to collaborate with different artists? And/or how do you select producers/remixers for the label? Is there a logistical method you use or is it all straight from the heart?
HE: The Moulton vibe is all chill and no drama and we tend to gravitate to towards artist who are the same. Of course, you have to make dope ass music, but leave the drama at home!
D: Your experience in House music runs deep back to the good 'Old School' days of the 90's rave scene. In 2018, it seems everyone is a DJ and the competition is thick, what do you think gives a DJ their longevity? What advice can you give those who are just starting out?
HE: I sometimes hear artists complain about the politics of the scene and yes, it can be challenging, but how I got around that was doing my own thing. I didn't rely on people booking me for gigs. I made my own gigs, at the beginning it was hard to get folks to go out, but over time people started coming. When you look at all the big DJs, they all have their own nights and that's how they build their following. Dirtybird is a perfect example, those cats started out throwing free parties in a park in San Francisco and look at them now. If you build it, they will come….
D: Moulton Music has released major players such as Tony Humphries, Mark Farina, Mr. V., Fred Everything, Luke Solomon, Doc Martin, and Dj Spen. Can I ask, what other artist that inspire would you want to welcome to the Moulton family? And please tell us about Moulton's upcoming releases and your plans for 2019.
HE: Everyone on the label has a personal connection with one of the core artist on the label. David Harness and Chris Lum brought us DJ Spen, Tony Humphries, and Mr. V. DJ spen remixed the very first Moulton release. 'Big Tool –DJ Spen Jungle Boogie mix.' Fred Everything had a suite at Moulton Studios and he would always give me tips for mixing when I was starting out. He was one of the early remixers we hired and his remix was what put us on the map, 'Love Say (Fred Everything Remix).'
2019 we're really going to continue doing what we do on the label and have some special albums to announce at the beginning of the year. We've also started hosting our own Moulton Music events and they have been a lot of fun. We're going to package that up and take on the road.
D: I have been inside your DJ room with wall to wall vinyl, your library holds tracks that are the definition of the House movement (it's a soul thing). Can you please give us a selection of 3 tracks that might even school the deepest of Househeads?
HE: I can actually give you more than 3. I just did this interview for Beatport called Monitor where they ask artist to put together the sounds that make up the sounds of their city.
D: Thanks Homero for taking the time to chat with us. This edition of Della's Drivhus is surely going to be 'Burnin, burnin HOT!' I can't wait! – DELLA