Krister Kolstad was christened DJ Krass long before he even approached a DJ booth in a club setting. His critical listening habits had inspired the epithet when some friends came to the conclusion; "You're so crass when you talk about music."
Krister Kolstad comes from a fine musical lineage. His father owned a prominent record store in Oslo while his big sister, Sandra Kolstad is a distinguished musical artist in Norway's music scene today. While they've all played together before as the Kollstad Killers (at Jaeger), Krister's own efforts as a DJ and artist, is still at the burgeoning stages.
Growing up in a very musical household, music has played a prominent part in Krister's formative years, and while he had been entertaining the thought of DJing for some time, he only started playing out a few years ago.
Fraternising with the more obscure corners of the larger Oslo DJ community like Oblivion Dip and Den Gyldne Sprekk, he has been inducted into the scene with eclectic sets that span the realm of recorded music today. 
When Sprekken's Raymond T. Hauger (Lekkerman) had other commitments in February, he asked DJ Krass to fill in for him. Krister agreed, with Raymond going "great, can I have the program by tomorrow?" It's an impulsive DJ Krass takeover of Den Gyldne Sprekk at Jaeger this month as a result, prompting us to find out more about this new DJ.
Introductions are in order I believe. 
I've noticed that your name often comes up in events around town recently, especially alongside Oblivion Dip. What is your connection to those guys and that world?
Oblivion Dip, I got to know them a few years ago, and they are good people. We've been working a bit in the studio as well. They invited me to play at one of their release parties in 2018, and we've been playing a lot since then.
And Raymond and Den Gyldne Sprekk?
I'm not sure when I got to know Raymond exactly, but it was around 2015/16. In 2018, I played Sprekken for the first time. 
When did you start DJing
Out and about it's only been since the start of 2017. I played with a friend for a few years before that, to learn how to play. He's actually going to play with me on one of the dates.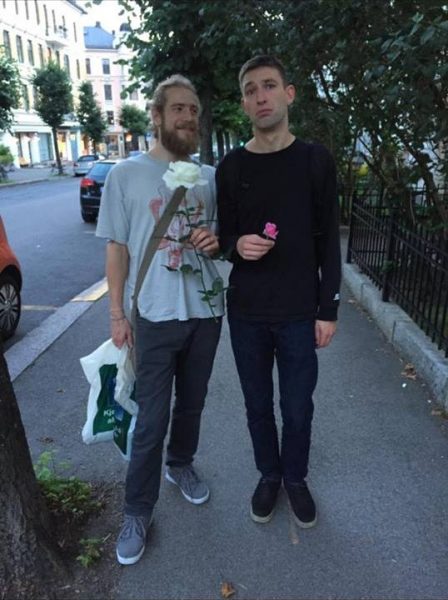 Who is that?
Very Friendly. It's an old friend of mine, I've known him since I was 13. He's always had great taste in music, and we've always shared a lot of music. The first time at Sprekken was also with him. 
Tell me about your taste in music. 
Originally I started  with Hip Hop. I've always been all over the place. Hip Hop and then later progressive Rock and space Rock. That was mostly through my father, because he was an old hippy. (laughs)
I was going to get to your family, because of the Kolstad Killers and because your sister is Sandra Kolstad. There's been a lot of  music in the family for some time I imagine.
Yes, because our father used to run a record store in the eighties. He's obviously very interested in music, so I guess we listened to a lot of different stuff from him.
Which record store was this?
It was called Utopia.
So dad must have brought a lot of music home with him, but what was the first style of music you got into?
I would say Hip Hop. I guess I would listen to some other stuff before then as well. I remember one CD called 1995 hit mix, with all these dance mega hits. I was really young, so it wasn't really a conscious choice. I had some friends that listened to Cypress Hill and Bone Thugs n Harmony. And I was like; "wow this is cool."
As kids we usually rebel through music. How do you rebel in a household like that with your father being a hippy and running a record store?
I know they weren't too happy with the lyrics in the Hip Hop stuff. But it wasn't a rebellion on my part. That's what I liked at the time, and I still do. 
Were you playing in bands as a kid?
No I wasn't. I was just listening. At some point in my twenties I started playing the guitar. So, late. I was inspired by the early folk-blues guys in America in the 1920's.
Like Robert Johnson?
Yes, and Mississipi John Hurt and stuff like that. So I started playing the guitar and then jamming with some friends. It never amounted to anything, it was just good fun. At some point, I became interested in electronic music as well, and my big sister showed me Ableton. 
Is that Sandra?
Yes.
Do you and your sister ever collaborate?
We've done some stuff, but not really. 
She must be quite busy.
She's always busy with loads projects all the time. She's involved in theatre and stuff like that too. 
And your dad, is he still excited about new music.
Sure.
You all played together a while back as the Kolstad Killers at Sprekken… 
On Raymond's request. My dad came with two burnt CDs which were both the same. He had no idea how to use the CDJs, and he asked me to help his  So I just played the songs in the order he wanted. 
What kind of music was that?
It was mainly psychedelic Rock and space Rock. A lot of Hawkwind. 
Are you making electronic music now?
There's been a couple of digital releases and there's more stuff coming this year, I hope. Oblivion Dip has a compilation out some time soon where I have on track with Kristian Dugstad, who runs Oblivion Dip. 
It's a varied compilation. We have an Electro track and there's an Ambient track on there. 
So you're also entering into a career as a producer?
Well I've been doing it for nine years, but I just never felt it was good enough. Now it's starting to meet my standards. In the last few years, I've been branching out and meeting new people doing the same thing. Before I was just alone at home. Now it's more out there. 
Another project is that I'm remixing the whole Beglomeg album. 
The whole album, how did that come about?
Yes, on Raymond's request. It started with him asking me and Snørre (club No No) to remix a track and then he said you have to remix the whole album. Then Snørre left for Bergen and I took over the whole project. 
Are you re-mixing it or remixing it?
The tracks are getting remade. The one track is Jungle, one is Trance, and one is Ambient. It's all over the place.
Where do you start with something like that, because it's such a unique album?
We just loaded all the different elements into a sampler and we didn't listen to the original track before we started. It could go both ways, but it just flowed out. We were done in four hours. Eventually I heard all the tracks, and now I just start at one point and go with the flow.  
It's a very organic LP, did you have to add loads of new elements?
No. I'm just using what's there, because the raw material is so great, it's just a pleasure to work with. 
There's also a very obscure concept behind the album. How do you try and relay that into the remixes?
I try not to think about that. 
In terms of what you play as a DJ, is it as eclectic as your tastes? 
Yes, I'm all over the place. I guess I prefer Techno, but anything goes. 
What are your plans for Den Gyldne Sprekk takeover?
The first night is David Dajani, and we haven't talked about what we're going to play. The last time it was when he was curating the month, and I asked if we could play, progressive rock. I guess we're going to do something else this time. 
The second Tuesday is Very Friendly, which again we didn't talk about what we're going to play. Probably just a good mix of stuff. 
The third one is with Hertug Skule & Big T and it's a concept called Gangster Galore, where they takeover a place and play gangster rap for 9 hours. They've had it at Freden's cafe in Fredensborg veien. 
Besides the last one, there's no distinct themes emerging. So will you be a bit more free flowing in your selections each night?
Yeah. I'll go anywhere. 
Within that wide musical scope, what do you look for in music, what's the underlying thread?
It's mainly just records from the 90's, mainly Techno. I'm always looking for cheap, but good records. It takes a bit of time and you have to listen to a lot of shit.
It's very rare, since everybody knows what they cost, because of Discogs.
Yeah, the Discogs effect has been going on for the last few years, where everybody is doing the same as me. They are cheap because nobody has been wanting them for 20 years. So when they get sold out on Discogs, they don't just arrive at the same price. I have many records that I've bought for 2 Euros that are now 150 euros.
And what do those records sound like?
European and American Techno records and Trance records, and Breakbeat records.