MC Kaman takes us through the subdued landscape of Metalheadz at halfspeed.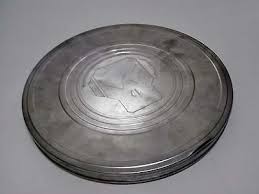 Drum and Bass producers make great music, no doubt. DnB might the genre they are known for, but loads of the artists also make supercharged beats that carry on that vibe of the genre, but at a more reserved pace. Drum and Bass is a genre that co-opted the technology back in the 90s in the UK and the result was a whole new style of music that paved the way for much of today's electronic music, beyond that singular genre. Think IDM, hardcore, dubstep, Techno… no…Yes. Drum and Bass is everywhere, you here an amen break or a saw tooth wave bass, and one label in partcular has played a significant part in spreading that gospel, Metalheadz.
Nightflight resident and office funny man, MC Kaman shares a few nuggets mainly from that holy grail boxset from Metalheads. The Tin Box!
Starting with the Big Lamp track from this Box. I had to buy the whole metal boxset to get that one tune. It was actually this track that made the day and still stands the test of time. It's something that could easily have come from one of the Norwegian Disco boys. Sadly Mark Gooding passed away and we salute you for the music!
In a perfect world Hidden Agenda would sell millions of records and be on everyone's playlists. In reality it is just for those who love this music. Hidden Agenda is my favourite duo on Metalheads. Mark and Jason Goodings made some eclectic DnB, with a unique sound when they came together. This track is something else. The title could be taken from "Get Carter" a British cult film" with Swedish Pinup girl Britt Ekland.( Not the one with Sly Stallone.) I somehow picture her when I hear this song. It is sensual, tough, and soulful. Just Like Britt, This song stays an evergreen. "Pressin On" is on the otherside of that fine piece of wax with a D-Train sample!
Oopsie… here is the song BTW..
Bonus Scene:
Ed Rush is one of my favourite DnB artists. He is like Karl Malone the Mailman. He always delivers! Ed Rush's Westway is one of the coolest tracks ever put out by Metalheadz. Ed Rush does jazzy hiphop with boomin jeep beats. Damn its fresh! I mean, it could actually have been a big influence on me back in the day. Somehow Ed Rush didnt release more of these beats that I know of.
Photek was untouchable in the 90s. The Michael Jordan of Drum & Bass. Then something happend. He moved to LA. Like LeBron, LA changes people. He is now part of Hollywood. Some purist would say for the worse… I say it was for the better. Rainy Ipswich or sunny Tinseltown…I go Tinseltown. He did what he wanted. He wanted to score films. He made some new music. He found love! Had kids. Did some new albums. My drum and bass friends didn´t like the music. I didn´t hate all of it. He got beaten by Sonny .. I mean Skrillex at least twice in the Grammys. Despite all of this, he did a mixtape on K7 which is different. Despite all of this, Photek is still the best! He did the soundtrack for Tron 2. Here is a steamy scene from Tron 1 (parental guidance is advised) …
https://www.youtube.com/watch?v=pzHd1GI6wbI
Here he is in the 90's.
Bonus Tracks of DnB Producers making dope beats.
J Majik: Mermaids:
Adam F: Colours
Danny Breaks: Dislocated Sounds from Beyond Infinity
4hero feat Shawn J Period
*Metalheadz play Øya Natt pres. Metalheadz with Ed Rush, Lenzman and DJ Subway.