We get a sneak preview of the up and coming V/A compilation series from Det Gode Selskab while we talk to DGS and Phill prince about the origins of the track and more.
Groovy, melodic, minimal and uplifting springs to mind when you put Phill Prince's Lost the Key on for the first time. It's the same words I would and have used to describe Det Gode Selskab Records, the label facilitating this release from the Italian courtesy of four part V/A compilation series coming out this fall.
Phill Prince is a leading light in the Italian underground as the mastermind behind Milan's PLGRN party set. He is a DJ, producer and promoter and shares many of those core values of the Det Gode Selskab.  With a few invitations back and forth, including a visit to Jaeger's basement this Saturday, they have found kindred spirits in each other.
Lost the Key cements the friendship as bongos rally around a bouncing bass arrangement and breezy keys; an ode to the end of summer and happy memories from nightlifes mishaps. There's a serendipity in the title that I'd leave the artist and the label to explain, which re-enforces that sonic bridge between Phill Prince's music and Det Gode Selskab's sonic identity.
Lost the Key is a party-starter, its infectious rhythms and stark sonics only has designs intended for the dance floor. We talk to Phill Prince and then Det Gode Selskab about this new track, the upcoming compilation series and the next DGS at Jaeger while you get the exclusive preview.
Interview with Phill Prince
Hey Phill. First off, give us a little background info on you and PLGRN?
My musical journey started at a very young age when I fell in love with the drums. As a kid, I couldn't resist the allure of electronic music, and that fascination grew over the years.
I began performing in local clubs when I was just 15. I established myself as a DJ, and my sets covered a range of genres, from house to techno. I guess my family's deep-rooted passion for the disco tunes of the 80s and 90s played a significant role in shaping my musical taste.
My journey into music production began during my time spent in clubs near Venice. I enrolled in specialized training courses for music producers across Italy. There, I started crafting my groove and percussive rhythms using analog machines and MIDI modulation.
With the release of several productions on different labels I've been fortunate enough to have my productions supported by several international artists like Jamie Jones, Marco Carola, Jaden Thompson, Rich NxT, East and Dubs, Rossi, and many others. I've also had the privilege of performing at renowned venues like  E1 London, After Caposile ,Goya Madrid, Destino Ibiza,Liquid Room Edinburgh, Storgata26 Oslo, Studio69 Berlin, Taboo Paris, Altavoz Venice, The Bus Barcellona, Musica Riccione, Super Club Milano, Apollo Club, to name a few…
Established in February with my partners Jacopo and Pietro, Pellegrino has emerged as a vibrant hub within the Milanese nightlife scene, dedicated to cultivating the unique musical expressions of its DJs, distinguishing them from the typical genres often presented at various events. Milan's Apollo and Super Club played a key role in bringing this concept to life, dedicating a specific space within the nightlife scene to this format. This support led Pellegrino to obtain a monthly residency at the club, where he introduced a musical direction focused on Minimal, Techhouse and Microhouse genres in the heart of the city.
With Pellegrino, our goal has been to turn the clubbing scene into a musical sanctuary for Milan's nightlife lovers, a destination where they can relax and enjoy themselves after a busy week, a chance to hear new artist profiles. It became the music destination the city craved. We brought a fresh, original and distinctive idea with a shared musical purpose that resonated with our participants. Our continued support and enthusiasm further fuelled our determination to continue with the project, even after the challenges posed by the closures and prolonged suspension of nightlife due to covid.
How did you find the guys at DGS and what drew to their sound and vibes originally?
Expanding our boundaries has always been a goal of ours and to do this we need to build a community around formats that have similar interests and a musical identity that matches ours.
We started looking for profiles that were interested in this kind of project and shared these ideals, and fortunately we managed to get in touch with the guys from DGS. Their profile was already known to us for several releases on their Power House label that our DJs often support in their selections. 
This aspect, together with the magnificent human side of the creators, led to this magnificent connection and constant showcases between Italy and Norway.
Tell us about how you made Lost the Key?

The composition of 'Lost the Key' can be considered as a fusion of both analog and digital elements. This project originated within the studio environment, where we embarked on the exploration of various drum patterns characterized by their distinct freshness and a pronounced techy influence. These explorations were complemented by the incorporation of closed and open-hat sequences, firmly rooted in a classic house style.
The melodic dimension of the piece was meticulously crafted through the modulation of a synthesizer sample sourced directly from the Yamaha Rm1x. This process imbued the composition with an ethereal quality, lending it a constant and deep tonal foundation.
Further enriching the sonic landscape, the central sound was developed using a Roland TB-3, creating a lead acid element that steadily evolves until the track's reset. This dynamic transformation maintains a consistent energy throughout the composition, evoking associations with a 'dance floor' siren, thus encompassing a spectrum of moods that transition seamlessly from deep house to more electro-inspired moments.
The overall structure is characterized by a series of fluid and invigorating grooves, imbuing the composition with a sense of freshness that harmonizes seamlessly within the final mix.

What's the story behind the title of that track?
Often, the titles I assign to my records are intricately linked to genuine, tangible experiences. In this particular instance, I found myself within the confines of my studio, engrossed in the process of crafting a central melody revolving around a foundation of meticulously constructed kicks and percussion.
As time passed, it became evident that the hour was growing late, and the moment had arrived for me to conclude my work and head home. However, a sense of unease began to grip me as I realized that my keys were nowhere to be found. The ensuing search for these elusive keys proved to be a nerve-wracking ordeal, as I grappled with the mounting doubt and frustration that came with each passing moment.
In a moment of uncertainty, I gravitate back towards my analog machines. In the process of experimentation, a profound connection emerged between the 'siren' I had meticulously crafted, the intricate interplay of the drums, and the ethereal pad. It was within this creative juncture that the composition began to take shape and evolve.

What is it about your sounds as an artist that you feel worked well with the sound of the label?
My sound is currently honing in on a distinctive style that spans from minimal to powerful house, affording me the versatility to explore various creative avenues. In this instance, I identified a harmonious connection between my own musical approach and Dgs' direction. This record, in my perspective, reflects several facets of the house genre that align with the neo-90s vibe of the Norwegian label. Nevertheless, it retains a notably minimal groove that harmonizes with my broader body of work.
How does the track reflect your sound as a DJ?
I aim to craft something vibrant, drawing inspiration from the 90s house sound while maintaining the tempo of today's minimal-deep tech trend. It's a dynamic interplay between pad and lead elements, engaging the audience and keeping them on the dance floor. That's what I strive to create and simulate for the audience – an electrifying energy
Give us a glimpse into your record bag for this upcoming event at Jaeger. 
I have a selection of diverse records at my disposal, but my exploration is an ongoing evolution. My musical focus leans towards a raw house sound, occasionally delving into Romanian minimal influences, while consistently incorporating elements of electro and tribal rhythms.
From labels like Rawax to Kann Records, and including Terry Francis's latest EP on Hallucienda, along with exclusive previews of my forthcoming releases in the coming months, some of which are recent unreleased creations – all of these elements contribute to the musical journey I aim to craft.
Interview with Det Gode Selskab 
Hey DGS. How did you first hear of Phill Prince and PLGRN?
Det Gode Selskab and PLGRN made their first acquaintance in April, when they invited Tod Louie to play at Super Club in Milano. High five to keepitgoing. for connecting us.
We decided to keep collaborating, and we invited the crew to Oslo at the end of May at Prindsens Hage where we did an outdoor garden party in the middle of the city.
Where does DGS and PLGRN crossover in terms of sound for you?
In many ways the people behind PLGRN and the DGS crew share similar passion and values for the underground club scene. They put their whole heart and love into what they do, and it's very contagious and loving.
They have high standards, confidence and big hearts which, for us is very important in this scene to keep it healthy and progressive. So all of this made it all very natural to continue developing our Milano – Oslo partnership.
We also see ourselves steering more into the direction of collaborating with labels and concepts rather than booking highliners for Det Gode Selskab nights. That kind of collaboration is what feels right for us.
What attracted you to Phill Prince's sound as an artist and why did you want him for this compilation?
His sense of grooves and the way he works his music as a DJ and producer. He gives a lot behind the DJ booth and his transitions and build ups are very charismatic and captivating. He is a super DJ and when were introduced to his music we saw a lot of quality that  has a natural place with our label.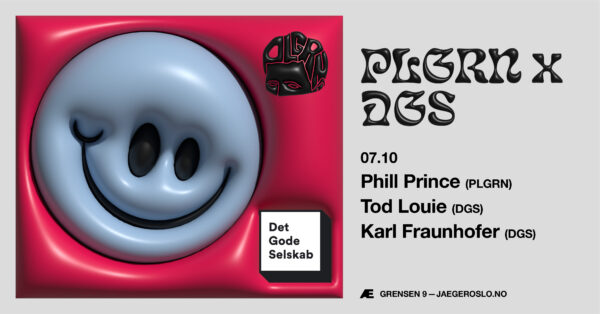 Tell us what you first felt when you heard Lost the Key.
Upon first listening to "Lost the Key" by Phill Prince, I was instantly transported back to ADE 2022, a memory etched with the comical misadventure of Karl Fraunhofer misplacing our apartment key, which eventually found its way into the Amsterdam waters on a Monday morning at the docks. A chaotic moment, though it ultimately concluded on a positive note. Despite the unexpected acrobatics involving scaffolding around our residence, the tale culminated with the locksmith's timely arrival to restore access.
It's minimal, groovy and there's that functionalism there that we all associate with DGS. How does it differ and expand otherwise from the classic DGS sound for you?
It gives some of the same qualities, percussions and sound that Luciano's Cadenza label has offered us as DJ's throughout the years. That "terrace" Ibiza-sounds from 2012-2018. It's a sound that historically has been part of many of our events throughout the year. It works very well!
What does this reflect the rest of the compilation?
Our compilation invites the sound of our collective of artists and new and old friends and acquaintances that we meet as a label, DJs and event series. It encompasses the sound of our label and our extended network and is usually not very genre specific but obviously revolved around the groovier sides of dancefloor music; consisting of house, italo house, tech-house, minimal, techno, breaks and drum & bass.
Tell us a bit about what you expect from the upcoming night with Phill.
He will take the lead for the last two hours of the night, and what to be expected is some serious groove and passion behind the booth. He has a unique style and ability to create forceful transitions that invite a full and playful dance floor.