It might not come as a surprise to you that the record label Cin Cin was concocted over a drink in a pub – it's in the name after all. Ali Tillett, the promoter and booking agent working with Warm in London had met friend and peer Michael Greene, better known by his DJ/producer alias Fort Romeau, for an innocent pint at the local, but what started out as a "tipple", would be much more significant  as the pair laid down the basis of a record label.
"We both wanted to do it", Greene told Red Bull music academy back in 2016 "and I figured that if we combined our small amounts of free time, it would be possible – and because we'd already been working together, it was quite a natural thing." Cin Cin sprang up during a phase of immense popularity for Greene's Fort Romeau project. "The motivation was that I didn't have enough stress and hassle in my life already" he would joke in Groove magazine, but in all seriousness the label had a very humble and simple premise to it.
"Doing this solo electronic music thing, it's a quite isolating way to work. You're working in the studio on your own, for the most part, and then you go away DJing, traveling by yourself. You make friends through other DJs and other producers as times go by, but it's nice to work more directly with other people."
And the other aspect that would inform the label was the idea of the split EP format. Greene had "always really liked" the idea of the split release, "especially coming from a record buyer and DJ perspective", he told RBMA. "If you can get four quite different tracks on one piece of wax, it can be a good proposition in terms of buying records in that you get more bang for your buck."
Cin Cin's first release saw label head Fort Romeau (who else) accompany Panorama Bar/Berghain resident Nick Höppner on the inauguration of the label for Cin Cin 001. It had always been Greene and Tilett's vision to create a label where they "can have a well-known artist on one side and a newcomer on the other side" and through Cin Cin 001 they achieved… wait hang on.
Both Fort Romeau and Nick Höppner weren't exactly newcomers at that time, with Fort Romeau's albums Kingdoms and Insides already bringing the artist to the world stage and Nick Höppner releasing extensively on Ostgut Ton before that time.
"(I)t's not necessarily strictly that format" Greene clarified for RBMA. The distinguishing characteristic to the split release however was the idea that you could discover an artist that you were perhaps unfamiliar within the context of a release from an artist you have come to know and adore.
For the split releases the "first port of call is always to ask friends and producers who we admire and have some affinity with. We don't want to pair each side of the record too closely, there just has to be some sense of synergy between the artists. But as it's largely dictated by our tastes there's is always some strand that connects everything, even tenuously."
That thread errs on the side of tenuous with Cin Cin 001, with Nick Höppner turning the tables on FR's melodic Detroit House with two glitchy Garage cuts. The thread remains there however with both artists offering padded luxurious atmospheres that sink to unattainable depths on the record.
Even though Greene and Tillett's intentions were  to keep Cin Cin "somewhat low-key" releasing records that merely "just turn up online and in the store" Cin Cin 001 propelled the label into the music public consciousness almost instantly.  
Perpetuating that ideology, releases from Todd Osborn, Laurence Gay, Ripperton, V, Bwana, Lor and Bezier followed, coming full circle back to Fort Romeau within the first year of the label's existence. There was little fanfare around these releases, simply appearing in record stores. Inconspicuous amongst other records, they only really stood out once you put the needle on the record. From V and Bezier's eighties inspired synth House to Lor's cosmic dance floor workouts and Fort Romeau's Detroit House, there wasn't a distinct sonic signature to the label, but there is certainly a mood that ebbed through the whole thing.
"There's no concrete methodology to doing it", Greene told Shawn Reynaldo in RBMA. "It comes down to music that Ali and I both agree on and like – that's enough of a limitation as far as how to curate the label."
Although a conduit for their shared musical tastes, Cin Cin hadn't really solidified a visual identity through those first releases in the first year. While all the digital releases featured the same pencil drawing of two disembodied hands setting a wine glass into vibration, the physical releases were little more than centre disc picture in a plain black sleeve.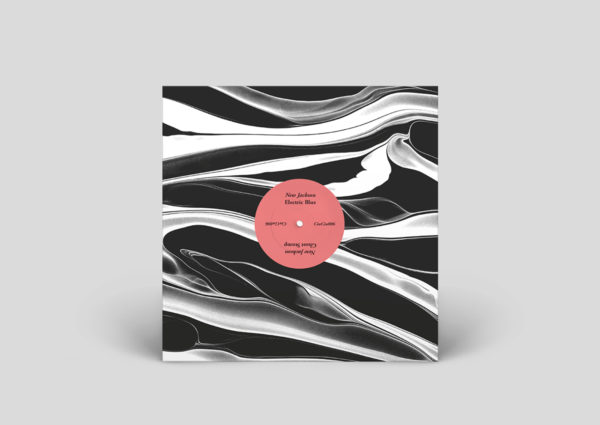 That all changed with the New Jackson / Elliot Lion split, Cin Cin 006. The label achieved a visual identity with that release that extends up to the most recent release, Cin Cin 010.  Featuring artwork from Arnau Bi Ponany, the look of the label was largely influenced by Greene's tastes and his admiration for the aesthetic of labels like Whities and Live at Robert Johnson according to an exchange between Tillett and Greene on Thump.
The swirling monochrome imagery that adorns the front of each Cin Cin record since garners hypnotic associations as it flows around the centre disc of each record. On the rear, the Cin logo – two disembodied heads connected at the temporal lobe – communicates something of the ideology of the label;  Ali Tillett and Michael Greene's shared musical knowledge and taste influencing the collection of artists and music appearing at the centre where the two heads are joined.
The new artwork brought with it a new phase for the music on the label too. New, relatively unheard of artists like Statue, Gacha Bakradze and Ara Koufax, still appeared alongside established artists like Marco Passarani, Lauer and Knightlife, but from Cin Cin 008 the music would take on a more corporeal form.
From Bwana's Annex to Statue's Base, there's an elemental shift from the keys to the sequencer in the music. Where before synthesisers would create immersive textures for the dance floor, they were now stripped back to the their most basic function with an energetic take on House music.
Built on the foundation of the mechanic rhythms of machines, rather than the expressive human movements through keys, Cin Cin's focus seemed to shift dramatically to the centre of the dance floor. By the time you get to Marco Passarani's ICU Cin Cin is almost unrecogniseable against the backdrop of the first four releases, but that's the nature of the beast.
What did you expect? The musical landscape is an evolutionary landscape and peoples' tastes, perceptions and style changes with its movement, so a label built upon personal tastes is sure to evolve with time and Greene and Tillett make no excuses for it either. In his 2016 interview with RBMA Greene made it clear that "the only consistent idea is to have it as a split EP format".
Ironic that the only consistent idea is based on a format that doesn't really encourage consistency, but that's exactly what keeps Cin Cin interesting and unique.
Since the music on the label will always be an organic extension of Tillett and Greene's personal tastes, it will undeniably modulate, and today it's taken on a life of its own. It lives beyond the Fort Romeau sound (he hasn't contributed to the label since Cin Cin 005), or any of Tillett's musical projects and for the last two-and-a-half years, it's remained consistent, and probably more appropriately, consistently good.
Lauer and The Golden Filter share Cin Cin 10, the most recent release from the label with The Golden Filter approaching the label from a completely different world than the previous artists on the label. An electronic live duo, The Golden Filter were a surprise addition to the label, but their inclusion perpetuates Greene and Tillett's unwavering philosophy for the label; that is no philosophy other than the split release format.
It might have started out as a drink in the pub, but like every drink in the pub, it's gotten out of hand and today Cin Cin is the incorrigible eccentric at the bar with no particular purpose other than the whim of his will.