Anja Schneider has been a broadcast- and club DJ for 25 years. She cut her teeth in the world of DJing back in the nineties when the culture was still underground, precocious and even a little menacing. By the early 2000's she was established, moving from DJing to label owner and eventually production as one of the founders of Mobilee. That label remains a touchstone for a very specific time in club music history as Techno and House went deeper and crossed over into popular culture. At the height of its popularity, Anja left Mobilee and almost immediately she established her own imprint Sous. Anja Schneider's presence has been a fixture in the culture, especially through her work as a radio host and an electronic music facilitator for airwaves. 
Radio is something that she has always embraced, but even for all its positives it could also feel like a quagmire for a progressive club DJ like Anja, whose strong connection to the underground often left her stymied with her day job. Recently that has changed. 
"Now I'm radio free," says Anja Schneider over a telephone call with some reserved excitement in her vocal chords. After twenty five years in broadcasting Anja Schneider has called it quits for radio. "To make a long story short… I had enough," the German DJ and producer begins. It started when her programme at radio Eins ended abruptly when they pivoted to an all-rock programme during the pandemic. "Imagine, in Berlin!", she mocks incredulously. She fielded a lot of offers from other stations and took on the monumental task of a daily drive time show at classic radio with a programme called Beats, which was all about "independent deep house." She did a show for a year, "and then I couldn't do it anymore," she says, sounding exasperated. "It was too much and I couldn't hear any new music."
There had always been a sense of "frustration" for Anja working in "these big companies"  where it seemed "you're always fighting" to get that "new shit" on the air. After 25 years she was "tired" and compounded by the situation, in general, Anja has taken a well-deserved break from the airwaves. It's given her the opportunity "to breathe a little" and refocus her energies on the club dance floor. "Everybody from outside just saw me as a radio producer," reflects Anja, and today she is looking to shed a little of that perception of her skills as a DJ.
Anja Schneider's associations with radio run deep, especially in Germany. Since the early nineties she has been at the forefront of German broadcasters bringing electronic club music to the masses. 
It was all predicated by an interest for electronic music that started in her hometown of Cologne, where she first heard the sounds of Chicago and Detroit spilling out from a local record store. "I worked in an advertising company, and underneath there was this little Chicago record shop," remembers Anja. There were all "these cool guys hanging" out in front of the shop, and her curiosity piqued, she went on to discover what electronic club music was all about. They turned her on to the likes of Underground Resistance while DJs like "Hans Nieswandt from Whirlpool production" exposed her to some of her first DJ mixes. She went deeper with fanzines and started buying the music, before she eventually made her way to Berlin and found a refuge on the dance floor at Tresor.
There she was "blown away" when she saw "Jeff Mills for the first time" and alongside influences like the "charismatic" Sven Väth, a nascent career as a DJ awaited, but it would have to wait a little longer. 
Anja's focus had always been as somebody that "worked behind the scenes." Her work in advertising which led to broadcasting kept her rooted in the background as a kind wizard of oz for club music, when it was still in its infancy. Instead of keeping it on the dance floor, Anja  turned her efforts to bringing what she heard in clubs on the weekend to the bigger audience of the radio. "I always wanted to make it (electronic music) more popular," she explains. She started off as something "like a consultant" before moving on to become a "programme manager," a position she enjoyed at Fritz radio for some time before her boss convinced her to take to the microphone as a DJ. 
After an initial reticence, it turned out to be the "best decision of my life." She became "very successful" as a radio DJ and shortly after DJ requests started flooding in. A thought struck her; "if I can play for 80 000 people on the radio of course I can play in the club. This was the most stupid thought!" she now considers with a snicker. "I failed the first gigs and I had to learn to mix properly." That didn't take long. Moving over to a set of decks, after the simplistic push-button selections of radio programming, Anja Schneider's reputation became two-fold. Already known for her cutting edge selections as a radio DJ, she became a double threat as a DJ that had the chops to back it up in the club too. 
Soon an "offer to start a label" followed. That label turned out to be Mobillee, a club music label that became home to artists like Sebo K, Pan Pot and more recently Gheist, and has been a significant fixture on club music since its inception, with Anja playing a large part in its success…
Anja trails off while recounting these early years. It's always struck me and especially now speaking to her, that Anja Schneider lives in the present with an eye on the future. She's never been one to reflect too heavily on the past in other interviews and talking to her she covers much of her career, with "…and the rest is history". It's reflected in what she does as a label owner with most of her efforts are focussed on bringing new artists and music to the fore. Recently she has established Clubroom, a mix series,"which is syndicated to several radio stations;" worked with up and coming artist, Joplyn for an amazon music exclusive; and released a compilation, featuring many new artists via her own Sous music label. 
The fairly young imprint has been around since 2017 with the debut LP coming from Anja Schneider herself. The record, called SoMe, seemed like a significant moment for the artist, producer and DJ, and much like the position she finds herself in today, after 25 years of being a radio DJ, it seemed like a watershed moment for her career. It established a new label, marked her departure from Mobilee and hinted to a more eclectic approach in her sound, as something she likes to refer to as "Schneider House." Anja is not so sure however what really inspired this watershed moment or any of the others. "I've never been a person to make plans. It's always been chaotic and organic" and creation of Sous records and the LP SoMe, could simply be an extension of that. 
Her decision to leave Mobilee, the label she helped create and cultivate in to its position today, "was not an easy step" for Anja."It was quite difficult for me when I quit," admits Anja and the fallout from that was a huge risk on her part too, but she was adamant on this new recourse. "With Mobilee, it was established, there was a lot of business," says Anja. It was "too much pressure" to deliver in the end. She wanted a record she could put out without considering the practical commitments that go with being a label boss, things like paychecks and bills. "I wanted to do it whenever I wanted to and how I wanted to do it," and that's how Sous came to be. She was determined and it didn't take her much time to establish herself again in the position she is now, with a new successful label and a very busy musical output.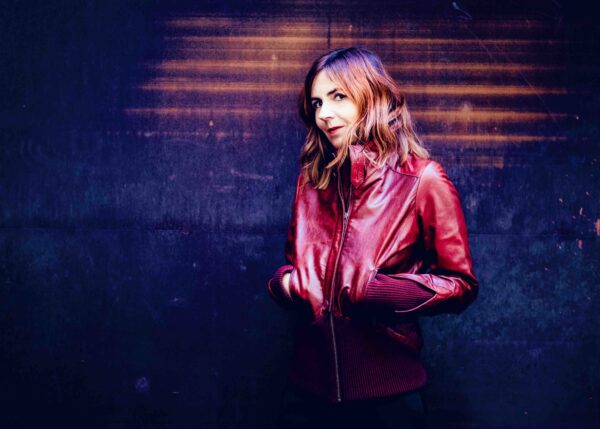 SoMe laid the foundation for her to explore new avenues in the larger network of her Schneider House sound. It extends to the label where "everything is possible" which reflects again in her DJ sets too. It's a sound she's established over the course of her career and much like everything else it's a direct result of this chaotic and organic process to everything she touches.
It's hard to believe today that Anja Schneider never wanted to be a producer. "Everybody was asking why don't you deliver a track?"; but she was quite aware of her own limitations. "I can't do it," she used to tell them until her friend Sebo K convinced her otherwise. She teamed up with that producer first and the result was a record called Tonite. All those latent ingredients are there that make this an Anja Schneider track. Melodic and immersive, yet thundering, it is a dance floor track that looks to the deeper end of the spectrum. Bubbling basslines and syncopated percussion keep it rooted on the groove while playful elements flutter through the arrangements.
Ever since her first release, she has always worked with a production partner and she picks no bones about the fact. "I love to work with different people," exclaims Anja. "I like the interactions and the fights that you have with people," she says with a laugh. 
Her latest production partner is her husband and renowned producer, Toni Planet. There haven't been any fights yet according to Anja who has found the whole experience to be "super easy and fun" so far. In her relationships with any producer, it "has to click on a human side," and working with her husband certainly has that covered. "On the other hand it's really important to have something unique or authentic." Anja "can hear quite soon, if somebody is trying to be trendy," and music for her has always been about having an "authentic" experience. 
This is one of the biggest faux pas Anja has witnessed in her extensive career, as a DJ,  producer and label owner. "If you have to adapt, you are losing that authentic part of you." She considers "it would be completely stupid" to have to adapt at all to what's going on around her, especially now with a trend for harder and faster music prevailing. In what she claims is now her "fifth wave" of a new trend, she certainly doesn't feel the need to compromise the authenticity of Schneider's House for this new immediacy in club music. 
Anja's music today actually  lives on the opposite end of the spectrum of the trend, yet she is still an in-demand DJ, which says much about her own authenticity as a producer and DJ. Her latest release Turning my Head, is a deep thriller operating on the lower ends of the BPM wars. A moody track that simmers between tension and resolve, it maintains that sound of Schneider's House for lack of any other description. 
"It's always deep," she says of this sound. "I'm not a person with big breaks and drama"  and in her music you'll find something that is tempered and introspective with a groove that undulates throughout. "This groove can also be a little breaky," suggests Anja with tracks like WMF from SoMe as an example, but it's always there and follows the artist from the studio to any DJ booth she commands. 
Much like her music, "everything is possible" when it comes to an Anja Schneider set and yet there is something specific to her sets that can live happily under the roof of Schneider`s House. Her only regret recently has been that due to the pandemic, "the last EPs were really slow and breaky" and like DJing she is looking forward to get back into the club "and make music for the dance floor again.'' 
It's hard to believe that it would take that long for Anja Schneider to achieve her goal. With the world back on its feet, her presence on the dance floor has been noted. Her touring schedule is back to where it was during her time at Mobilee and with more releases primed from her and her label, including a "big breaks" remix from Dense Pika, Anja Schneider is riding a new wave of success already. With the commitments of broadcasting now firmly behind her, she has retrained her efforts and set her laser-like focus back on the club dance floor. She's setting the scene for a new generation of producers and DJs through her label and efforts like clubroom in that same altruistic approach  that has followed her through her entire career; to bring that "new shit" to the people.