We speak to Horse Meat Disco's James Hillard about pork pies and voulevants, sexy music, queer nights that are open to all and the enduring legacy of Disco.
"Vi skal sees," says James Hillard at the end of our phone call. I pause, not knowing if I heard him correctly; the Horse Meat Disco DJ is English, afterall. He shoots off another couple of sentences in practised Swedish too fast for my poor second-language Norwegian to catch. "I speak some Swedish," he says, expecting my surprise. As a student he took up the language on a "totally random" impulse decided by chance. "I literally took out a map of Europe and waved my finger over it and then landed on Sweden," he explains with a little chuckle. James speaks a few languages in fact, and he's something of a word-smith in the way he engages the listener.
James is easy to talk to. He is eloquent and bubbly, and even when he says he says he's "rambling," he's concise, following facts with anecdotes to questions he must have heard a thousand of times before. He knows his audience, and he's always at hand with a quip that sticks in your mind like a song lyric to quote later. He converses in the way you'd expect a Disco DJ to speak. Earnest about the details, but never taking himself too seriously with a sense of playfulness, even at the cost of being self-effacing. Isn't that what Disco is all about and isn't it just what Horse Meat Disco has always been about too?
Alongside Luke Howard, Jim Stanton and Severino Panzetta, James has helped install Horse Meat Disco as an international clubbing institution. Residencies in New York and Berlin; an intense touring schedule for its DJs; a radio show; and records, including mixed compilations like their latest Back to Mine contribution, have made them prominent figures on an international stage. "And we're still there every Sunday at the Eagle," says James jokingly. Like we needed reminding. "A queer night that is open to all," the club night has remained unwavering in it's spot in Vauxhall, London and continues to draw crowds on a weekly basis some twenty years on after it's initial party.
*James Hillard and Luke Howard represent Horse meat Disco in our booth next Frædag.
It's reached that untenable position for most club nights with its success based on the mere fact it exists. They don't need to book headlining DJs or do much in the way of promotion; "the people come to see us," says James. The reputation precedes the name wherever they go, extending far beyond the fairly inconspicuous roots at the Eagle to an international DJ circuit and it all started with a humorous name – taken from a newspaper article that read "Horse meat discovered" – and a very simple idea…
"Playing disco to gay boys is hardly rocket science," says James. Up until the point Horse Meat Disco arrived on the scene "the UK club scene was circuit music," playing what James refers to as "Tribal and House" music. "Electroclash was probably the closest thing… otherwise it was trashy music." He and Jim Stanton established the club night in this environment back in the early 2000's. Starting out on a Thursday night in a venue in London's Chinatown, they eventually found their way to the Eagle (née Dukes) when they hosted a New Year's Day party for the predominantly bear crowd. James and Jim had been regular punters at Dukes, taking advantage of the "free supply of pork pies and voulevants" at the Friday night buffets while working as poor interns for "trendy" record companies and magazines. 
"To begin with it was more like the electroclash and bear scene colliding with a few daddies thrown in," when Horse Meat Disco arrived. "There was a feeling that we hit on something," remembers James. There "weren't many clubs that play that kind of music," and especially not in gay clubs. "You heard Disco in the straight scene more than the gay scene" making James and Jim question, "why aren't gays listening to Disco, it's music for them?"
They stepped into the void effortlessly and called on long-time friends Luke Howard and Severino Panzetta, whose experience abetted where Jim and James' skills as DJs were still developing. "They would be the main DJs and I would do the warm-up, and a few years later Jim started DJing" until eventually "we became a soundsystem." Spurred on by a shared love for music from an era roughly between 1975-1985, they set in stone a sound that remains consistent, and more importantly, consistently good. 
Their latest contribution to the Back to Mine series is a testament to that sound today. The iconic DMC compilation, which re-surfaced in 2019 added Horse Meat Disco to their esteemed alumni last month. Alongside artists like Danny Tenaglia and Pet Shop Boys, Horse Meat Disco appears like it was always meant to be there. They invariably understood the assignment and delivered a mix that is all about the after-party. It's a "reflection of things that we'd really love to play in a club, but never get a chance to, or feel it's not appropriate to," explains James. Slow, chugging pieces emerge throughout the compilation mix, skirting the fringes of the dance floor, often touching on some experimental plane, while never veering from that elusive common denominator which has always been, Disco. 
But why Disco, I ask James? What is it about Disco that remains so consistent and refuses to die, why does it survive to this day? "First and foremost it's the quality," he suggests. He believes that decade was a "peak level for musicianship, artistry, production techniques and hifi sound." And in the current epoch, when dance music is all about tracks and beats, there's a craft there that has only solidified over time. It's all about "songs, emotions and release" with "great songwriting" at the heart of it all. Then again he might be biassed, his "first love was Disco."
Growing up in a house full of records collected by his dad, who used to moonlight as a DJ, it's assumed that James was born with Disco in his ears. He would often "sneak into the attic" and listen to his dad's records until a time when he started collecting his own records. His first music job was in a contemporary dance music label," but Disco remained central to his personal pursuit. Disco was and remains a "great leveller" for James but it's also a "broad church" and can easily travel from those early organic sounds of Soul to the fast-paced electronic sequences of early House music. It's "different things to different people" he explains. "From rock to House," it's always a fleeting construct and "always eclectic" but central to it all and most importantly, is that it's "sexy music."
And the longer Horse Meat Disco has gone on, "the… more discerning" their audience has become in terms of their tastes for this music. Tracks like "in the evening" by Sheryl Lee Ralph and "the boss" by Diana Ross have become staples and are still requested by a crowd that "has remained" consistent, albeit getting "younger" according to James. "We've had people play a gospel set and we've had Andrew Weatherall not really playing Disco, but just doing what he does. People are receptive and as long as it's quality music, we're down."
The eponymous connection aside, Horse Meat Disco's success is also in part due to that audience they attract, and the association of Disco's roots. As music that was, if not born from the gay community, certainly adopted as such, Disco's connection to queer lifestyles is something that is also deeply rooted in Horse Meat Disco's platform. the club night was one of the first nights to establish the open door policy that permeates through most clubs today; a queer night that it is open to all. It's something we've witnessed more in recent years, as club culture's popularity has been appropriated by the mainstream. But how do you define queer, in this sprwaling landscape, I wonder?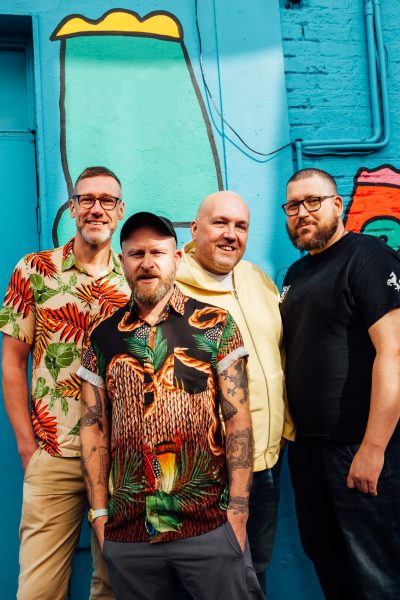 James doesn't feel queer is a "sexual statement," but rather an ideology. "I know cis straight woman who identify as queer," he says as an example. For James, queer is about a "rejection of patriarchy" and a the celebration of "alternative lifestyles" on dance floors. "As long as they bring love and joy to the dance, then everybody is welcome," insists James. Even though the party they "do in New York is a different crowd to the one in London and the one in Berlin is different to both of those," that queer element remains at its core and James "loves the fact that it's all things to all people." Much like Disco, queer is an ideology and in many cases the music and that ideology is inseperable. 
In recent years Horse Meat Disco haven't merely been content in capturing this spirit as a soundsystem, and have turned their attention to the recorded format. Imbibed by the sound and quality of those early Disco productions, Horse Meat Disco's approach has been to facilitate the magic, more than create it. "We are not producers," insists James, "we work with other people." After years of making edits, remixes and the odd demo, they finally made the leap to becoming a fully fledged album artist back in 2020 with their debut LP, "Love and Dancing" arriving on Glitterbox. They were "sitting on the demos (for the album) for a long time," before Luke Howard played them to Luke Solomon (classic records) who thought; "I can do something with this."
"Love and Dancing" is a modern Disco classic, emerging on the convalescence of those old organic sounds and modern electronic wizardry. Syncopated beats move between sequenced drum machines, while bass guitars in an artificial disguise bounce through arrangements. Synthesisers whistle where expansive string sections used to reside and elements of House music live harmoniously alongside its Disco matriarch. 
Remix requests for the likes of Dua Lipa and David Holmes followed the LP, establishing the name Horse Meat Disco as a verified triple threat. Recording artist, club night, soundsystem and of course DJ collective, Horse Meat Disco commands all these facets of modern club music today. And yet, even with all these new commitments they still maintain that original Sunday night party at the Eagle. They might have the occasional stand in when they are all away on different DJ assignments, like their upcoming Pride weekend showcase in Camden's roundhouse, but they remain the driving force behind the night and continue to draw new audiences to Horse Meat Disco on the prowess of their skills in the booth. We've been doing it for so long, that "it all just kind of falls into place," says James and that place is enshrined in club legend today.