Not a single day has gone by at Filter Musikk where Roland Lifjell hasn't been behind the counter. A diligent facilitator to all things electronic music in Oslo, he and Filter Musikk are a permanent fixture in the Norwegian capital, a touchstone for the DJ hordes populating the city, and its sudden absence would leave an immense void in the landscape of the city.  
One of the last few bastions for the electronic music- and record enthusiast, Filter Musikk is an unwavering sanctuary for the huddled masses yearning to breathe free from the tyranny of banality and Roland Lifjell is their resolute keeper at the gate of good taste. Always available with the sage advice of a musical oracle or just a friendly quip in passing conversation, Roland is Filter Musikk and for the many who frequent the little shop in Skippergata the two are indistinguishable. 
Could Filter Musikk even exist without Roland Lifjell, and could Roland exist independently outside its doors?  We had our unexpected answer in July when he took two weeks vacation(without due notice) and our world turned on its head. His sudden and unexpected absence came as a shock!
Bewildered vinyl enthusiast were roaming the streets of Oslo with a glazed daze in their eyes. They were lost, revolving through the glass doors at Filter Musikk, in an aimless stupor – the faint hope of seeing their confidant, guide, mentor, musical guru, planted in his usual spot behind the counter, their only purpose in life.  
Alas he was on holiday, the first holiday he'd taken in the entire history of Filter Musikk (as far as we know), and we would just need to make due. Two weeks went by in some lethargic haze, with a foreboding mist lingering on the future horizon in an ominous cloud of doubt. He did say he'll only be gone for two weeks…right? 
We counted, weeks, days, hours, minutes and eventually seconds until his imminent return, the suspense ripping a hole through the fabric of time. What would happen to the records that came out, would anybody ever hear them? Where will we go with nothing to do on a Friday afternoon and what will happen to all that music in the store? The four horsemen of the apocalypse and their horrible equine couriers were despatched at hell's door, and just as they were about to descend upon us… a miracle.
One Monday afternoon Roland Lifjell simply appeared again, returning to his hallowed counter, like he'd never gone. Order was restored and all was well again. No sooner had Roland Lifjell returned, and there was a box of records waiting, with some of the latest and greatest records of the season. It's time again for the Cut with Filter Musikk.  
Various – AniaraVA01 (Aniara1) 12″ 
Dorisburg, Genius of Time, Porn Sword Tobacco, Bird ov Paradise: Aniara's roster contains some of the leading lights of Sweden's underground electronic music movement. Many of them came through on the collective turned label, and together with Fabian Bruhn they've honed in on a sound that has set them apart not only in Sweden, but for much of Europe too. It's a sound that thrives in the deeper frequencies of Techno, House et al, but negates the formulaic premise for something more innovative.
On Aiara's latest release they've assembled four of their stellar cast for three tracks in the label's first VA comp. Dorisburg & Henrik Bergqvist, Arkajo and Ebende come together for this release in what has become the label's calling card: Polyrhythms and luxurious synthetic sounds, that border somewhere between ambient realm of room two with the rhythmic pursuit of room one. Between Akajo's tribalistic pitched percussion and new world sounds, Ebende's ambient House, and Dorisburg & Henrik Bergqvist's moody synths and primal rhythms, it all comes together along the lines of the sonic directive they follow.
A minimal ideology underpins it all, where all these elements and rhythmical devices find some unique equilibrium in the track as they come together. In tracks that should sound incredibly busy, Aniara's records never do, without forsaking an innovative quality behind each track. Interesting rhythms and an exotic sonic palette keeps the more inquisitive engaged while the tracks remain resolute on the natural rhythm of the dance floor.
LNS – Recons Two (LNS) 12″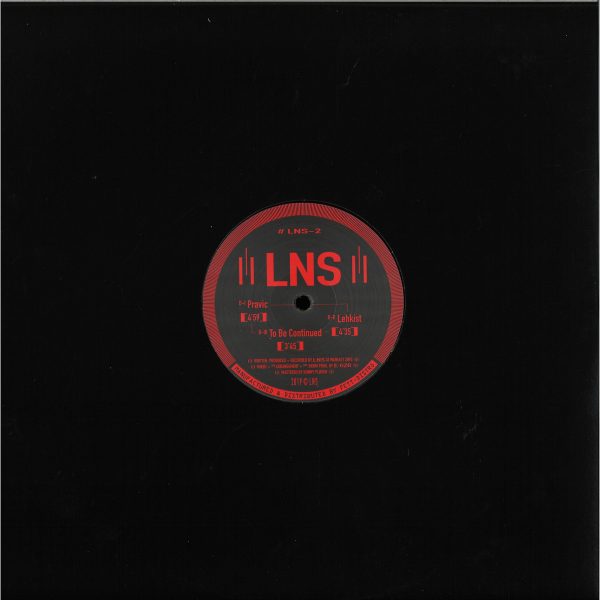 LNS consecrates her eponymous label with the second release in the Recons series, with five Electro cuts that continue to pursue her distinguished take on the genre with an eidetic view of its DIY origins. Airy melodic phrases that move from the hedonistic heights of early Trance to the brooding depths of modern Techno are transported along on waves of swinging kicks and off-beat snares. 
Recons Two finds LNS perpetuating the sound she's established on her first record for Freakout Cult back in 2017, but finds the Canadian producer in more aggressive mood. Emboldened by rhythm sections that take more of a dominant role on this release, there's something of a sinister air to all the tracks on this release. 
While "Recons Two" and "Pravic" favour upbeat melodic arrangements, the booming percussive arrangements drag the release down into the murky depths where " Ecumene" and "Lekhist" thrive. The contemplative depths dominate on "Recons Two" and those enigmatic earworms that informed some of her earlier records has gone underground in what we perceive is more attuned to the DJ on this occasion. 
Luke Vibert – Libertine Traditions 10 (Libertine) 12″ 
Luke Francis Vibert is quite simply prolific. His extensive career extends back to 1997 and through his eponymous moniker and his various aliases, including Kerrier District and Wagon Christ his discography is an expansive journey through the gauntlet of electronic music's history through all its different phases. 
As Luke Vibert, his music floats between Acid, Electro and Techno, always focussed on the raw power of analogue machines, channeled through the ears of pop producer. Taking wayward, uncooperative machines and coercing them through all his years of experience, his records have always favoured a sound closer to the high-end productions of Hip Hop's golden age, rather than the DIY pursuits of his electronic contemporaries.
He has never shown any signs of slowing down or even taking short break continually releasing records since 1996. In 2019 he's already released an LP as Luke Vibert, and now he's back with a 12" for Libertine. Vibert's records always sound bigger than any other record on that shelf and Libertine Traditions is no exception. 
Playing on the "i" theme throughout four releases, Luke Vibert yet gain moves between elements of Acid and Electro with 808 beats and 303 bass-lines at the core of each track. Squirming acid-lines and curious de-tuned melodies like that main refrain on "iCandy" tip the tracks into some more obscure territory. 
Alessandro Adriani – Fuoco (Mannequin) 12″ 
The man behind Mannequin records makes a rare appearance on his label, with a single from his first LP, Montagne Trasparenti, which has been reissued on Mannequin recently. "Fuoco" is classic Alessandro Adriani with clamorous analogue synths, carving out austere sonic arrangements, punctuated by gated drum machines. A perpetual melancholy clouds Italian producer's work with a progressive flair that borders on drone and industrial factions.
On the extended mix he focuses his efforts on an arrangement more suited for DJ purposes, but it changes little from the original and it's actually the Silent Servant remix that draws us to this release. Breathing new life into the drums with an electro flair and swapping out the original's melancholia for a more provocative, industrial take. 
Between Adriani's extended mix and Silent Servant's interpretation, there are two sides of a night to this record, but it perpetuates that Mannequin sound that keeps motivating the darker EBM and Industrial strands of Techno. 
Paleman – Sweltering Rain (Nonplus) 12″ 
Misanthropic Techno doesn't come much better than Paleman. The UK producer and DJ has been pursuing an onerous path between the menacing sonic design of the sounds of the continent and more elusive innovations of UK's post-dubstep arrangements. Where industrial sounds converge with irregular rhythm structures, that's where Paleman's music exists. Releases on Swamp 81 and his own PLMN imprint can flit between the half-time beats of an Electro set to the hypnotic allure of Techno's darker palettes. 
His latest release finds him making his debut on Bodika's Nonplus records for three tracks that offer three different perspectives of the club floor. While the title track is a pretty standard Techno piece, replete with four four rhythms and muggy sonic textures, it's "Titan Vulture" and "Cells" that defines Paleman's appeal as a producer. His innovative approach to rhythms in which his percussive parts vehemently avoid the regular beat, offer something a little more engaging for the dance floor, tapping into something a little more ancient, a little more primal in the human psyche.
Combining these esoteric rhythmical moments with innovative sonic textures, evoked from some unimaginable alien dimension, Paleman's music is crafted with a focused precision. All these divergent elements converge in a sinuous sonic strand made for the dance floor and best experienced through an almighty sound system.