Freddy K once famously told us: "If you have a club with good resident DJ, that is culture."  He went on to explain that this culture is also about the radio station that proliferates the music, the clothes you wear to identify and most importantly the place where you go to buy the music. Well, he didn't say "most importantly", but he might as well have. The record store is still the bastion of any good DJ culture today. Some of them might have moved online, but most still peddle their wares out of a physical store. In Oslo there is only one place that fits that profile and that is Filter Musikk
It's Oslo worst kept secret and also somehow the city's richest trove of hidden musical treasures. It lives beyond the media hype of the moment with records carefully selected by proprietor and DJ, Roland Lifjell. Years of hands-on experience and the wisdom only age can bring, supplies Oslo on a near-weekly basis with some of the best, new music around.
A stalwart in the Oslo DJ community, Roland doesn't merely play us the records we want to hear, he is the invisible force behind the soundtrack of the weekend in the city. That barely audible din that you hear sweeping across the city every Friday and Saturday night, that's Roland Lifjell; the record you hear only once, but you can't shazam or find on the internet the next day, that's most likely hidden on a shelf in Filter Musikk; and that sound of the future or the familiar melody of a distant past, they all converge on a premises in Skippergata.
That is culture, or at least a vital part of this culture. The club would be nothing without a place to buy the records and the records would have nowhere to go without the discerning tastes of the record store owner. The record store, for many is still a place for new musical discoveries and re-acquaintances with old favourites.
Some of these you'll find on-line, but most of them are often saturated by the excessive releases that dominate the release cycles and the only place you can siv through the muck to get to the gold, is still a record store like Filter Musikk. Here's Filter Musikk's cut of some of the best releases that arrived during this week.
Mr. G – That Cold Sweat EP (Phoenix G.) 12″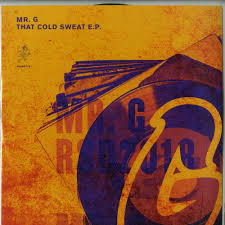 We just can't get too much of a good thing, and while many of us are still reeling from Mr. G performance in Jæger's basement from last Friday, Filter Musikk sneaked in a copy of That Cold Sweat EP to keep the momentum going. It's a limited release produced specifically for record store day and if you were in our basement, you might remember one or two tracks from his set.
Mr. G has his thing down pat. There's nobody in House music that can touch Mr. G's sound. It's a mixture of his experience as a sound-man a DJ and a digger that converge on his MPC. Jacking beats and well-directed samples make up the crux of this EP again with music made for DJs. Having said that, "Flex" throws up a bit of a surprise with that downtempo beat and filter bass. It's just more of G-thang, a good thing.
Thomas P. Heckmann – Body Music Remixes (Monnom Black) 12″
Thomas P Heckmann released one of the most pithy records of 2018 and yet very few people picked up on it. It was a powerful display of Techno, Electro and EBM and while everybody was trying themselves in the popularity of Industrial, No-Wave, EBM, Heckmann released an album that put them all to shame.
Body Music was a master class in the fundamental ideology of Techno from the German producer and while it should have dominated the genre this year, it was largely ignored by the "savvy" world music media. Possibly it was just too good, and anything else released this year as a Techno, EBM, Electro album  just pales in comparison.
Coming via his Monnom Black label in a shade of red that would make Brett Kavanaugh blush, it's a release that should come with a health warning, because if you are in any way predispositioned to vascular illnesses, DAX J's opener will certainly not bode well for you. There's no mild-mannered kick-snare introduction here. It's Rob Zombie getting his hands on a 303, a rollercoaster that starts at the peak… It's what Techno should sound like.
Heckman brings Karl O'Connor (Regis) and Simon Shreeve (Mønic) back together as Cub for a remix of "Acid Head" and gets CJ Bolland to put his spin on that track too. It's good to hear the Horrorist on there too, one of Techno's most sincerely underappreciated artists. He'd been away for some time, but since 2016 has been very active again, staking his rightful claim as one of the the genre's most unique artists alongside Heckmann. He's clearly still got it on the remix of "Departure". Thomas P. Heckmann's Body Music is the album that just keeps on giving.
Mesak – Kisko Kisko EP (Roots United) 12″
Yet another Finnish Electro export. Mesak(also known by Velcro Fastener) is one of the more fluid Electro artists out there today. Incorporating elements of abstract electronica in his works, his EP's can go from IDM to ambient, but on "Kisko Kisko", he's electro close to the Electro denomination.
There's DJ Overdose and Mono Junk on here too just to bolster the association in case there was any doubt. Mono Junk appears as a vocalist on "EBT", and that's a curiosity in itself. There's a weird glitchy nature to Mesak's music which takes some time to warm to, but once you get around the jagged edges of the tracks, his music intrigues and he puts a very unique stamp on his interpretation of this style of music.
The DJ Overdose remix of "Kisko" is more traditional in comparison if you're looking for that kind of thing, by why settle for the obvious?
Joan Bibiloni Band – The Boogie (Sotofett remix) (Saft) 12″
It's a reissue of the obscure Disco classic by the Joan Bibiloni Band. We love reissues, it really sticks it to those Discogs speculators, hoarding rare records and not even listening to them. They're like hedge fund managers of the music industry who in turn are like the black eyed peas of the finance industry… just really the worst people.
This reissue comes with a really abstract interpretation of the original from Sex Tags man, Sotofett. The Norwegian producer tears the original arrangement apart and rips open a hole to some alternative dimension. Warping delays and scattered fragments of vocal snippets ebb and flow between the bass guitar line and the only semblance of some sanity throughout the track.
It's a remix for the adventurous DJ and an audience with an open mind, but if there's always the a-side for the more conservative Disco fan.
Timothy J. Fairplay – DX Marks The Spot EP (Body Works) 12″
Timothy J Fairplay is the eponymous moniker of Junior Fairplay, who we mentioned right here on this feature some weeks ago. Here he straps on a keytar with one hand while manipulating a bulky drum machine with another for a synth wave release on Body Works.
"DX Marks the spot" might be some reference to the Oberheim DX drum machine, and it certainly like sounds like that on the title track with a kick that is screaming to break out from the speaker. Sequence synths running parallel with percussion while melodies and pads pile on in extreme eighties subtlety, infuses retro sound design with a modern minimalism throughout this release.
The EP conforms to this formula, but each track makes its own impression with unique melodies coaxed from some ghostly miasma lingering your conscious some time after. It's a full-bodied release and "PHANTOM GUARD DOGS OF CHOMOLUNGMA" particularly resonates for its ghoulish charm. What's your favourite?