Mr Scruff is an uncanny presence in the DJ booth, both in form and spirit. His quirky sense of humour and delecteable musical apetitites has made him a prominent presence in DJ booths all over the world with his innate effort to entertain and enlighten, both enthusiasts and the serious heads.
A decent cuppa
"There'll always be nerds and trainspotters, but you don't need to have a massive knowledge of all the internal workings to enjoy tea" he told the skinny in an interview from 2014. It's no secret, he does enjoy that most hallowed of English traditions, a cup of tea. There hasn't been a great moment in modern English history without a brew going in the background, and Mr  Scruff is no exception. When he's playing all night sets, his drink of choice? A cup of tea, naturally.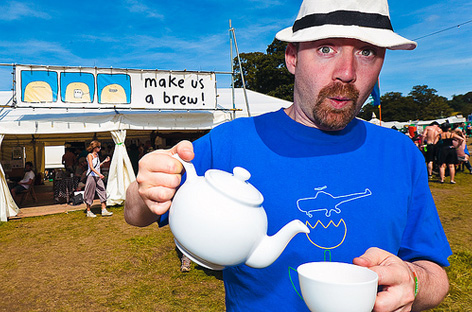 His obsession with tea is as old as the man, but it came to the public's attention when he started doing all night club sets in Manumission in 1994. "They had a weird cabaret lounge where I would play all sorts of music," he remembers in a Resident Advisor interview, "and at five in the morning I just had the guy behind the bar make me a cup of tea." It had an air of the teetotaling Northern Soul nights for Carthy and when it came time to create his own night, it was a prerequisite that he had all his creature comforts at hand and that went for his teapot too.
"I like drinking tea in clubs, so I'm going to sell tea," he insists and when he started his own club nights at Band on the Wall he set up a little kiosk in the second room "as a space where you can get peace of quiet and have a sit down. (Which is going to make people less likely to stand and talk on the dance floor.)" A cup of tea, a "nice bit of carpet and some comfy slippers" is all Mr. Scruff requires to set off on one of his marathon feats of music endurance at his "Keep it Unreal" club nights, which has been successfully going for the last 20 years in Manchester.
Commercial success of a fish monger
It was that seminal LP of the same name, released in 1999, that had made the DJ and producer a household name. His obsession with fish and his penchant for obscure samples, created a masterpiece in "Keep it Unreal" in part attributed to the commercial success of "Get a move on". Recognise that song? Even if you were unaware of Mr. Scruff, you would've heard that song on the myriad of advertisements that use it; it was especially popular with vehicle manufacturers for obvious reasons.
"Keep it Unreal" is a modern classic LP in the electronic music cannon. Mention "eating fish" to anyone that was in their late teens and early twenties in the nineties, and watch their eyes bulge and tail fin twitch as they are transported back to an LP that eptimozises a carefree youth. From the Mary Anne Hobbs introduction of the LP, the standout singles like "Spandex Man" and "Get a move on" to the more ludicrous tracks like "Shanty Town," which samples some obscure children's television programme about whales, the record is an icon and sits there alongside DJ Shadow's "Endtroducing" and The Avalanches "Since I left you" as one of the seminal sampling LP's of a generation.  
It was an LP that cemented Mr. Scruff's peculiar fascination with the sea and its animals, and although he said it was merely a passing fancy in interviews, it's a theme that would crop up countless times after. His next LP, Trouser Jazz, contained track titles like "Shrimp" and "Ahoy there" while the LP after that was called "Ninja Tuna"… he even married a girl named Trout! Andrea (Trout) Ahimie-Carthy to be fair, an accomplished DJ and selector in her own right.
Keep figging deep for the obscure
Mr. Scruff's appeal as a producer is closely linked to his own expert skills in the booth. Coming into his own as a producer during the height of trip hop and breakbeat, Carthy's musical prowess in the studio was very much dependent on his deep musical knowledge and vast and extensive record collection, which I found can contain some obscure pieces.
"Heh heh, I found a well stupid record sampled by Mr Scruff for his 'Fish' tune off of 'Keep It Unreal'," exclaims one MPC forum user to drive my point home. "It's called 'The Old Man of Loch Nagar' and is a story somehow related to Prince Charles, narrated by the main man, Peter Ustinov!!!" How it's related to Prince Charles, is unknown but it goes a long way in  explaining something of the self-professed "geek" that is Andrew Carthy. "Now it's one thing being a geek," says long-time collaborator and MC, Kwasi Asante in a Dekmantel Selectors interview, but "to wave that geek flag and totally admit I'm a geek as well… it goes beyond meticulous."
Carthy's astute musical knowledge goes further than a single musical scene or genre. His eclectic, almost OCD digging practises are broad, yet very esoteric and stems from what he was "doing in the 90's, playing a lot of different specialists scenes," according to an interview in Nailer 9. Doing all kinds of different nights from reggae to soul and funk, gave Carthy a very extensive scope of club culture's musical landscape in the UK. More importantly it showed him "how many different scenes and cultures are actually interlinked" and plied him with that innate ability  "to present them at any given time in a club." That's why his sets are always expansive, but concise.
This is what makes Mr. Scruff a cut above the rest when it comes to the club night, and it's never simply about the man itself. In a very Mr. Scruff self-effacing fashion he told the people at Dekmantel; "you don't want rows of people staring at you, because there's not a whole lot to look at… there's a bald bloke putting some records on. The hard work has been put into the record."
A python-esque wit
For those that require that visual stimulation, Carthy has a solution: "I don't tend to jump around on stage, waving my arms in the air;" he told the Skinny, "my cartoons can do that for me." Like fishy obsessions or his love of a brew, Carthy's cartoons have been a significant part of Mr. Scruff's appeal. From the record sleeves to something banal like explaining the GDPR rules on his website, Carthy uses his bulbous stick men to add a satirical depth to the musical hedonist side of the artist and DJ.
"When I started putting records out I just happened to design the sleeves," he told the Jaeger blog, in the past. "The silly cartoons seemed to work really well and that humour in the music comes out very much in my cartoons." There's a very definitive English humour in this, very similar  to the kind of humour in the fish references and samples he uses in his music. He calls it a "surreal, Python-esque humour" in the Skinny interview and admits that it's "always been there."
It creates an "imaginary world" around the music. "I spend a lot of time in my own little bubble anyway, so I think they live in that universe with me. There's a humour and mischievous side to the drawings that provides a perfect illustration for my music." It's something that his been extending to his Keep it Unreal nights and his travelling shows, like the one coming to Jaeger tomorrow (obvious plug). "It helps to keep quite a light hearted atmosphere at the gigs," he explained in the Jaeger interview. "It's about not taking yourself too seriously and creating a relaxed atmosphere with no unnecessary politics. We're all just  gonna come together and have a good time…. And because this is deep music, it also serves a function in getting people into some quality music, without having to compromise."
And that's Mr. Scruff, getting people into some serious music with his tongue firmly planted in his cheek. There's never a dry moment on the floor with Mr. Scruff, as he brings this light-hearted approach to all aspects of his music and DJing, and as Keep it Unreal turns twenty this year, he's certainly proven it's a recipe that works… we better put the kettle on.